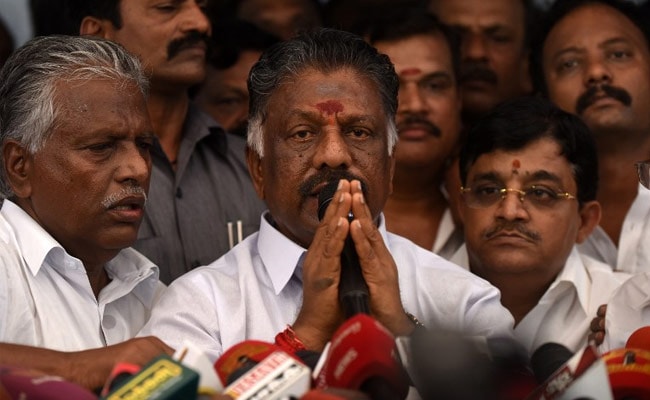 Chennai:
The Madras High Court today asked the anti-graft body in Tamil Nadu to explain, by July 23, why no probe was initiated even three months after a complaint was lodged against Deputy Chief Minister O Panneerselvam, accusing him of disproportionate assets.

It also sought to know why a CBI probe should not be ordered into the allegations against the AIADMK leader.

When the plea moved by the DMK came up for hearing, Justice G Jayachandran directed the Directorate of Vigilance and Anti-Corruption (DVAC) to explain by July 23 why no investigation had begun even three months after a complaint alleging amassment of assets disproportionate to his known sources of income was lodged against Mr Panneerselvam.

The matter pertains to a complaint lodged by DMK lawmaker RS Bharathi with the Directorate of Vigilance and Anti-Corruption in March.

Mr Bharathi filed a petition in the court yesterday, seeking a direction to the DVAC to register a case and investigate into the complaint against the deputy chief minister.

In the petition, Mr Bharathi alleged that the senior AIADMK leader had amassed wealth by abusing his power gained unlawfully and invested the same in companies and properties either in his name or that of his "benamis".

He further submitted that for this purpose, Mr Panneerselvam had made false declarations before the Income Tax authorities and election officials.

Alleging that the Directorate of Vigilance and Anti-Corruption had not acted on his complaint till date, the petitioner said the high court had already made it clear that when a complaint was given against a public servant, the vigilance department had to look into it directly and that no prior sanction was needed for the same.

Referring to Mr Panneerselvam's declaration before the Election Commission in 2014-15 that he had an annual income of Rs 5.80 lakh while his basic salary as an MLA was Rs 6.60 lakh, the petitioner claimed that in the same period, the deputy chief minister had bought a car worth Rs 17.85 lakh.