Highlights
The verdict came two years after Shayara Bano approached the top court
The Centre filed an affidavit against triple talaq based on her petition
Petitions of four other women were tagged with Ms Bano's petition
New Delhi:
In a historic judgement, the Supreme Court today banned the controversial practice of triple
talaq
that allows Muslim men to divorce their wives instantly by saying "
talaq
" thrice. A five-judge bench ruled that the practice of instant triple
talaq
is unconstitutional and against the teachings of Islam. Several Muslim women who have been divorced on phone, through letters and even via WhatsApp had argued that the practice was "unlawful" and appealed to the top court to end it.
The bench comprising Chief Justice JS Khehar, Justices Kurian Joseph, Rohinton Fali Nariman, Uday Umesh Lalit and Abdul Nazeer began hearing the petitions in May.
The judgement came two years after Shayara Bano from Uttarakhand first approached the top court after her husband of 15 years sent her a letter with
talaq
written thrice and left her. Petitions of four other women were tagged with Ms Bano's petition. The Bharatiya Muslim Mahila Andolan (BMMA) is the sixth petitioner in the case.
Let's take a look at the petitioners:
Shayara Bano
36-year-old Shayara Bano's husband gave her triple
talaq
in October 2015 and a year later, she approached the Supreme Court. Ms Bano's husband Rizwan Ahmed, a property dealer in Allahabad, also took away her two kids.
She asked the court to declare
talaq
-e-bidat (in which Muslim men utter '
talaq
' thrice instantly -- sometimes via a written
talaqnama
, or even by phone or text message -- while not adhering to the three-month
iddat
period, which is meant for reconciliation and arbitration), polygamy and
nikah halala
(which involves the woman marrying someone else, consummating the marriage and then getting a divorce - after which she is able to remarry her first husband) illegal and unconstitutional.
Ms Bano's husband opposed her plea saying they were governed by the Muslim Personal Law and all three discriminatory practices are sanctioned by the law. She also alleged that her in-laws forced her to have six abortions and she had suffered much physical and mental stress.
Prime Minister Narendra Modi's government filed an affidavit against the triple
talaq
based on her petition.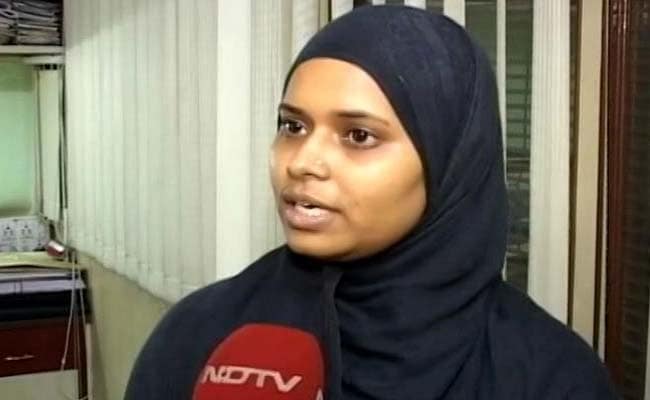 Ishrat Jahan
Ishrat Jahan from Howrah, West Bengal, was divorced by her husband on the phone. In April 2015, Murtaza, her husband of 15 years, called from Dubai, said "
talaq, talaq, talaq
" and disconnected.
He had allegedly married another woman and took away their four children. Ms Jahan now wants her children back, and maintenance from Murtaza.
"I don't accept the
talaq
by phone. I want justice. I want my three daughters and one son back from my husband who snatched them away and I want maintenance for their upbringing. That's why I have gone to court. I will fight to the finish," she said.
Gulshan Parween
Gulshan Parveen of Rampur in Uttar Pradesh received a
talaqnama
or divorce notice on a Rs 10 stamp paper when she was visiting her parents in 2015. "My husband felt like it one fine day and suddenly both my two-year-old son Ridan and I were homeless," said Ms Parween. She refused to accept the notice, after which her husband approached a family court.
Ms Parveen also alleges she was subjected to domestic violence over dowry.
"My husband felt like it one fine day and suddenly both my two-year-old son Ridan and I were homeless," said Ms Parween. She refused to accept it, following which her husband approached Rampur family court asking for dissolution of marriage based on the
talaqnama
.
Aafreen Rehman
Aafreen Rehman married in 2014 after meeting her husband through a matrimonial portal. "After two-three months my in-laws started mentally harassing me, demanding dowry," ANI news agency quoted her as saying. "Later they even started beating me and in September 2015 they asked me to leave their house."
She went back to her parents' home and received a letter via speed post announcing a divorce, she said. "This is completely wrong, unfair and unacceptable. I've filed a petition in Supreme Court seeking the court's intervention in the matter," she had said last year.
Atiya Sabri
Atiya Sabri, married in 2012, was also divorced on a piece of paper. She approached the Supreme Court in January challenging her divorce.
She has two daughters aged four and three. "
Talaq
given to me cannot be justified. I need justice as I have to raise my daughters," said Ms Sabri.
Bharatiya Muslim Mahila Andolan
A petition, titled 'Muslim Women's Quest for Equality', was filed by the Bharatiya Muslim Mahila Andolan (BMMA). The BMMA argued that Allah says men and women are equal.
Zakia Soman of the BMMA said, "We have reproduced verses from the Quran about
talaq
, negotiations and how it should happen over a minimum period of 90 days. The second argument is about gender justice. There is no ambiguity in the Constitution of India about all citizens having equal rights."