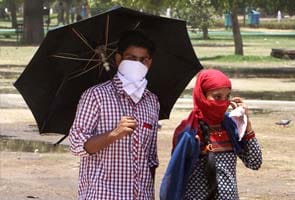 New Delhi:
Normal life remained affected as most parts of the country continued to reel under intense heat wave on Wednesday, with mercury in Rajasthan's Sriganganagar district settling at a sizzling 48.2 degrees Celsius.
There was no let up from heat for Delhiites as the maximum temperature in the capital stood at 44.9 degrees against Tuesday's 45.1, which is season's highest thus far.
While the minimum temperature in the capital was 30.3 degrees Celsius, the maximum and minimum humidity levels were recorded 40 and 18 per cent respectively.
Temperature in Nagpur, which witnessed its hottest day in six decades on Tuesday, broke all records to settle at the highest ever in history at 47.9 degrees Celsius.
In Rajasthan, temperatures in Churu, Bikaner, Kota and Jaisalmer also settled above the 45 degree-mark and registered highs of 47.2, 45.5, 45.2 and 45.1 degrees Celsius respectively.
As many as six heat-related deaths have been reported in the Kota in Rajasthan during past one week, officials said.
Uttar Pradesh also remained in the grip of blistering heat, where Banda in the Bundelkhand region recorded a high of 47.6 degrees Celsius.
Temperature in most parts of the state hovered above the normal, local Met office said.
Similar conditions prevailed across Punjab and Haryana, where Ludhiana witnessed its hottest day in three years and recorded season's highest at 46.3 degrees Celsius. Mercury in most parts of the region settled above normal.
Amritsar witnessed its hottest day in three decades with a maximum of 47.2 degrees, eight notches above normal.
Heat wave swept across various parts of Gujarat also, where Ahmedabad and Amreli were the hottest places in the state during past 24 hours with maximums of 44 degrees, two notches above normal.
With a maximum temperature of 47.1 degrees Celsius, Khajuraho and Chatarpur were the hottest places in Madhya Pradesh, which had witnessed three heat-related deaths on Monday.
In Odisha, Talcher district in state's coal belt was the hottest with a maximum of 46.6 degrees, followed by Sambhalpur 46.4, Bolangir 46.2 and Titlagarh 46 degrees Celsius.