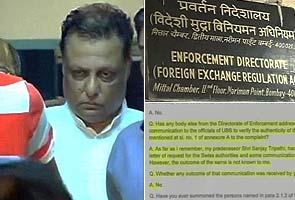 Mumbai:
As the Enforcement Directorate (ED) faces flak from both the Supreme Court and a lower court in Mumbai for the manner in which it has probed the Hasan Ali case, NDTV has accessed a key document which perhaps explains why the Mumbai court slammed the ED's probe and asked the agency to "do its homework properly."
The document accessed by NDTV is a record of the recent cross-examination of Arvind Kumar Singh by Hasan Ali's lawyer. Singh was the main investigating officer in the case between 2007 and 2009.
The report shows he and his team did very little to authenticate the trail of crucial documents they had stumbled upon in 2007.
Mr Singh was promoted to the Customs Department midway; a transfer now many allege was to scuttle the probe. Even the Supreme Court has questioned his transfer.
On Wednesday, ED officials handling Hasan Ali Khan's money-laundering case were ordered to "do their homework" by a Mumbai court which was hearing their request for custody of Mr Khan.
Mr Khan, whose different businesses include real estate, stud farms, and scrap dealerships, has been accused of stashing 8 billion dollars in Swiss banks. He has been asked to pay Rs 70,000 core as penalty for tax evasion. The Supreme Court has also asked the government to consider bringing terror charges against Mr Khan. That's because investigating officials say they have recovered documents that suggest international arms dealer Adnan Khashoggi transferred 300 million dollars to Mr Khan's Swiss accounts. This money may have been used to fund terror networks, said sources.
CROSS EXAMINATION OF ARVIND KUMAR SINGH, February 18, 2011
Q: Have you examined the original documents?
A: I don't remember
Q: Were investigations conducted overseas?
A: Not to my knowledge
Q: Did you go overseas in relation to the investigation?
A: No
Q: Did you contact officials of the United Back of Switzerland to verify the authenticity of the documents?
A: No
Q: Did anybody else from the ED communicate with officials of the UBS?
A: My predecessor Sanjay Tripathi had prepared one letter of request to Swiss authorities
Q: Did you receive any outcome of that communication?
A: No
Q: Have you investigated any lead of illegal money stashed in any Swiss bank?
A: I don't remember
This cross-examination clearly shows as leader of the team, AK Singh did not pursue hard evidence that could have saved the Enforcement Directorate the embarrassment of being repeatedly slammed by different courts.