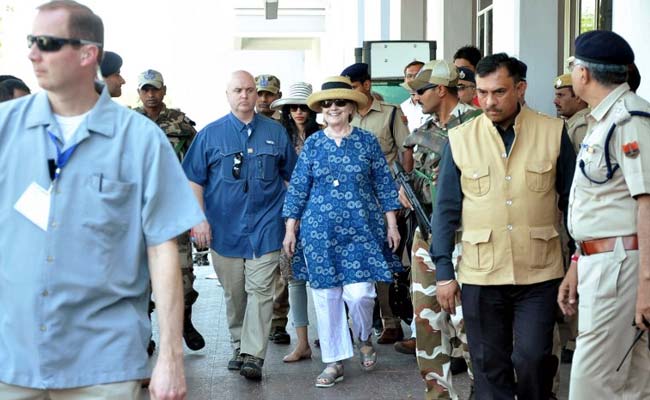 Jodhpur:
Former United States Secretary of State Hillary Clinton's stay at Rajasthan's Jodhpur city kept her on rest mode as she was suffering from pain in her hand.
Hillary, who is on a three-day private tour in India, on Tuesday slipped twice while climbing down the stone staircase at Jahaz Mahal in Mandu in Madhya Pradesh.
After landing in Jodhpur yesterday, she continuously remained with doctors due to injury in her right hand.
A team of doctors from a private hospital had attended her at Ummed Palace on Tuesday providing primary treatment.
Following the advice of the doctors, she cancelled her scheduled visit of the Mehrangarh Fort yesterday evening and planned to continue with her plan on Wednesday.
But the pain intensified on Wednesday and Hillary was taken to a hospital here at about 5.00 a.m, an official said.
She was taken to a hospital in the morning where we administered CT Scan and X-Ray of her hand, which showed that she had a minor fracture in her right wrist , a doctor said.
According to the doctor, a check up after three days has been advised, which she could get done at any place, wherever she will be.
Considering her condition, not only the local doctors but also her doctors in the US have advised her to rest, on account of which, her Jodhpur tour proved a resting tour as she is supposed to leave for Jaipur tomorrow morning.
According to the district officials, Hillary was scheduled to visit the Mehrangarh Fort Wednesday morning after the programme was cancelled on Tuesday. She was also scheduled to visit the carpet-making units of Salawas village here.