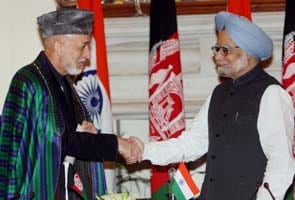 New Delhi:
Afghanistan President Hamid Karzai held delegation-level talks with Prime Minister Manmohan Singh in New Delhi today to explore the prospects of enhancing India's role in training Afghan security forces. The two sides also signed four agreements in diverse areas, including mines, youth affairs, small development projects and fertilizers.
"We have had detailed and frank discussions today covering the entire spectrum of bilateral relations. We reviewed progress of the strategic partnership agreement, discussed the need to develop strategic economic partnership that will build on our synergies," said Dr Singh said in a joint statement with Mr Karzai after the talks.
"India supports the nation-building efforts of Afghanistan. We also support efforts to achieve lasting peace in Afghanistan. I am confident President Karzai's visit will further strengthen the relationship between our two countries," Dr Singh added.
Describing Dr Singh as "a good friend of Afghanistan," Mr Karzai said, "relations between Afghanistan and India go back centuries, and we have built on that foundation by signing the Strategic Partnership Agreement last year." The two countries, traditionally close trading partners, had last year signed a strategic partnership agreement to deepen friendly ties and boost trade, security and cultural links.
"India has been a generous frontline partner in Afghanistan's rebuilding and reconstruction efforts," Mr Karzai said.
Earlier this morning, Mr Karzai was accorded a ceremonial welcome and President Pranab Mukherjee will host a state banquet in his honour.
The Afghan President had arrived in New Delhi from Mumbai yesterday, where he had begun the first leg of his tour on November 9.
In Mumbai, Mr Karzai promised business leaders a "red carpet" welcome for more Indian investment in Afghanistan as US-led NATO forces prepare to withdraw.
Mr Karzai had told business leaders in the Indian commercial capital that Afghanistan was "ripe and ready" for Indian investments in mining and other sectors. "We'd like to welcome you with a red carpet, but you need to arrive at the red carpet," he told the delegates on Saturday.
Mr Karzai will deliver the Maulana Abul Kalam Azad Memorial Lecture organised by the Indian Council of Cultural Relations at Teen Murti house this evening.
Among those slated to call on him Monday include Vice President M. Hamid Ansari, Congress Chief Sonia Gandhi and Bharatiya Janata Party leader Sushma Swaraj.
(
With inputs from IANS
)