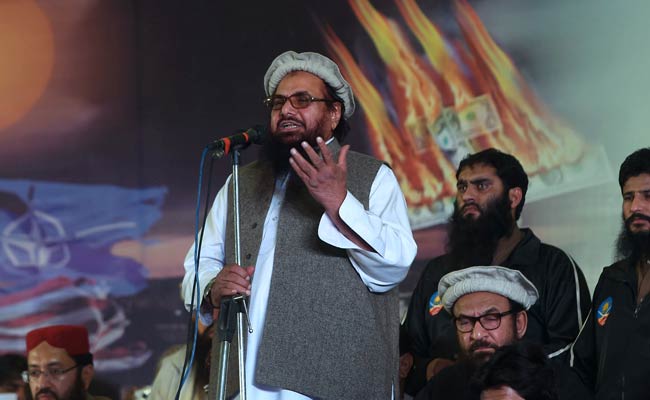 New Delhi:
On national television today in Pakistan, Hafiz Saeed, one of the world's most-wanted men, blamed India for the massacre of children at a Pakistan school and vowed revenge. Not a single politician in Pakistan condemned the remarks of the man behind the terror attacks in Mumbai in 2008, in which 166 people were killed. (
Peshawar school massacre: Track Live Updates here
)
Saeed's threats come as India has pledged its support to its neighbour as it grapples with its worst-ever terror attack. Taliban gunmen stormed an army-run school in Peshawar on Tuesday, ruthlessly killing over 130 children. (
The Men Who Shot 132 Children at Their School in Pakistan
)
As Pakistan began its three-day mourning with mass burials, Indian schools held two minutes' silence and special prayers this morning for the young lives lost; a similar tribute was paid by both houses of Parliament. National Security Advisor Ajit Doval met the Pakistani envoy in Delhi today and pledged, "India is behind the people and government of Pakistan"; he said Delhi will "do everything possible to help Pakistan counter the menace of terrorism."
Last night, Prime Minister Narendra Modi called Pakistani premier Nawaz Sharif and described the Peshawar attack as a tragedy that has "shaken the conscience of the world." Mr Modi told the Pakistani premier that the attack "is also a call for our two countries and all those who believe in humanity to join hands to decisively and comprehensively defeat terrorism." India has repeatedly urged Pakistan to rein in militant groups operating on its soil. (
PM Modi Calls Nawaz Sharif, 2-Minute Silence in Indian Schools
)
After cross-border violence peaked in Kashmir,
Mr Modi and Mr Sharif shared cold vibes
at last month's meeting of South Asian Association for Regional Cooperation or SAARC leaders in Nepal.
Saeed, who has a $10 million US bounty on his head since 2012, appears openly at rallies in Pakistan, and frequently denounces India as a terrorist state. Earlier this month, special trains were organized to ferry his supporters from Islamabad to Lahore, a clear signal of his clout within the establishment.
He is the founder of Lashkar-e-Taiba (LeT), a militant group banned in Pakistan but tolerated unofficially and believed to be close to the army. Pakistani politicians tout him as the head of an Islamic charity which enjoys popular support for its humanitarian work.