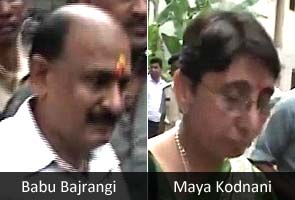 Ahmedabad:
Former Gujarat minister Maya Kodnani of the BJP and a Bajrang Dal leader, Babu Bajrangi, are among 32 people who have been convicted by a special court almost a decade after 95 people were killed in Ahmedabad's Naroda Patiya in one of the worst incidents of mob violence in the 2002 Gujarat riots.
Kodnani and Bajrangi been held guilty of murder under section 302, and of criminal conspiracy under section 120B of the Indian Penal Code (IPC). The maximum sentence under these sections is the death penalty. The quantum of sentence will be announced on Friday.
(Top newspapers, websites on Naroda Patiya verdict)
This is the first time that a former minister has been convicted in a Gujarat riots case. The special court in Ahmedabad has also let off 29 others accused in the Naroda Patiya case.
Welcoming the verdict, Law Minister Salman Khurshid today said the judgement enhances faith of the people in the legal system. "Every time this kind of inhuman act is made accountable, people who are responsible should feel a sense of reprimand.Those who wait for justice want to hear that the scales of justice have finally shown that rule of law prevails in the country," Mr Khurshid told reporters in New Delhi.
The Congress' Digvijay Singh said, "It has been proved now that BJP's minister and officials were involved in the Gujarat riots. Everything that happened was at the behest of Narendra Modi."
The BJP, meanwhile, tried to distance itself from today verdict. Party spokesman Prakash Javadekar said, "The riots were reprehensible. The court has given a verdict. We don't support any violence. Whoever is responsible should be punished. But this is the first court's decision, and there is a legal procedure in place."
On February 28, 2002, a day after the Godhra train burning incident, a rioting mob had attacked Naroda Patiya, killing 95 Muslims. The incident took place during a bandh call given by the Vishwa Hindu Parishad (VHP).
The case was first investigated by the Gujarat Police, but in 2009, the Supreme Court appointed a Special Investigation Team (SIT) to probe ten cases, including the Naroda Patiya incident.
The SIT registered cases against many of the accused, including the then Minister of Women and Child Development Mayaben Kodnani. Ms Kodnani, who was the MLA from the area, was also the first minister to be arrested in a riot case. Witnesses in Naroda Patiya have made statements alleging that Ms Kodnani had incited mobs.
Babu Bajrangi, the Bajrang Dal leader, was accused of leading the mob that attacked the Naroda Patya victims.
As many as 327 witnesses were examined by the court. Of the 64 people accused in the case, three died during trial. The remaining 61 accused were tried for murder, arson and rioting. Most of them were out on bail.

(with inputs from Agencies)