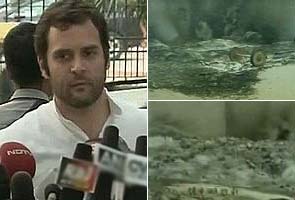 Noida:
The Bahujan Samaj Party (BSP) has questioned the authenticity of the photographs released by Rahul Gandhi to back his charge of UP government's alleged atrocities against farmers in the state.
The Congress General Secretary met with Prime Minister Manmohan Singh on Monday evening to highlight the situation of farmers in Greater Noida who claim their land is being illicitly acquired by the Mayawati government. He was in fact accompanied by some of them.
"They wanted to meet the PM, so I facilitated this," he told reporters after the meeting. "People are being murdered...there is a pile of ashes, 70-feet high, with dead bodies inside in Parsaul and Bhatta villages. Women have been raped, people have been thrashed, houses have been destroyed. Severe atrocities are taking place there," Mr Gandhi added. The villages have become the epicentre of farmers' protests in the state.
The Congress General Secretary also released pictures of burnt bodies at the villages, which he said were more proof of UP government's atrocities against farmers. 
But Mayawati-led BSP has questioned the authenticity of these photos. "The question of judicial inquiry comes once the authenticity of the photographs is determined. Unless the authenticity of the photographs is determined, the UP government will do as they feel right. If they feel the photographs are genuine, they will take necessary steps," said BSP MLA Syed Kazim Ali Khan.
The Central Forensic Science Laboratory in Agra has, meanwhile, collected the samples of the ash for analysis. These samples were taken last night.
Last week, Mr Gandhi sneaked past an extensive network of UP policemen into Parsaul-Bhatta early in the morning. He spent the day with farmers before being arrested. Late at night, he was released and escorted back across the UP border. The area has been tense since the police and farmers exchanged fire two weekends ago - four people were killed. Villagers claim that policemen and local administration officials have attacked their homes and families since then.
His visit was trashed by Mayawati, who said if Mr Gandhi really cares about farmers, he should petition the Central government to update its archaic Land Acquisition Act. Mr Gandhi on Monday retorted that while the union government is committed to an Act that protects farmers, "it is a complex piece of legislation" that will be passed in the next session of Parliament.
Farmers claim that the UP government forced them to sell their land for the Yamuna Expressway - a six-lane highway being constructed between Noida and Agra. However, they say that much of the land surrounding the highway is being sold at astronomical rates to real estate developers who are planning malls and industrial as well as residential projects there. Farmers claim that while the government and the developers will make a significant profit, they have been shortchanged.