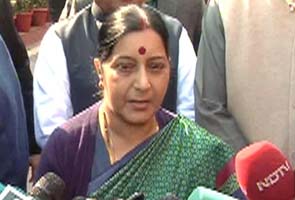 New Delhi:
On the 11th anniversary of Parliament attack, the BJP today said that the government should announce the date for hanging convict Afzal Guru to pay "real tribute" to the martyrs of the strike.
"If they fix a date (for hanging Guru) and announce it today, this would be the real tribute to these martyrs," Leader of the Opposition in Lok Sabha Sushma Swaraj said inside Parliament.
She was talking to reporters soon after paying homage to the nine martyrs of the 2001 Parliament attack.
Ms Swaraj said every year the country pays homage to these martyrs. "But one question is still unanswered - that the attacker who has been twice or thrice sentenced to death by the Supreme Court, why has he not been hanged so far?"
She said after the hanging of 26/11 Mumbai terror convict Ajmal Kasab, "hope has increased that the government will show courage to do what it has not done so far."
Minister of State for Home R P N Singh criticised the BJP leader for making the demand, saying the occasion should not be politicised.
"We have just paid tributes to those martyrs. I think it is extremly unfortunate that the moment we get away from there, we get into politics... I think to politicise this thing on every December 13, is not paying real homage to martyrs of this country," he said.
Mr Singh also said that matters related to hanging convicts are not dealt by Parliament and are handled by the courts.
"There is a process that has been explained by Home Minister Sushil Kumar Shinde. He has said the file is lying with him and he will look at it and make notings after the Parliament session," he said.