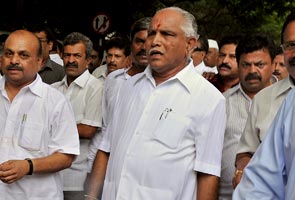 Bangalore:
BS Yeddyurappa's afternoon was considerably brighter than his morning. He has successfully pushed his candidate through as the new Chief Minister of Karnataka. Sadananda Gowda was chosen at a five-star hotel in Bangalore by the BJP's MLAs in Karnataka.
When Mr Yeddyurappa was indicted for corruption last week in a report on illegal mining, he made it clear to his party that he would dictate who would replace him. Since then, he exercised a vice-like grip over 70 of the 121 MLAs, ensuring they backed Mr Gowda, who is a Lok Sabha MP from Udipi.
Mr Yeddyurappa's victory was diminished by the Governor's decision this morning to allow his prosecution under the Prevention of Corruption Act. A report by Santosh Hegde, who completed his term yesterday as the state's Lokayukta or ombudsman, said that Mr Yeddyurappa had used his office as Chief Minister to trade favours for kickbacks from mining companies.
Governor HR Bhardwaj said he accepts Mr Hegde's report. Criminal proceedings against Mr Yeddyurappa can now begin.
(Read: Governor's statement sanctioning action against Yeddyurappa)
Mr Gowda is widely expected to serve as a rubber stamp for Mr Yedduyrappa. Indicating how likely this is, at a function in Bangalore yesterday, Mr Yeddyurappa said "I will be back within six months."
But both Mr Gowda and Mr Yeddyurappa will have to contend with the factionalism that so frequently threatened to dislodge Mr Yeddyurappa when he was in power.
Today's vote for the new Chief Minister was conducted by secret ballot-because a group headed by Ananth Kumar, a political rival of Mr Yeddyurappa, wanted to push their own candidate to power. Their choice was Jagadish Shettar, who is from the same Lingayat community as Mr Yeddyurappa. Unwilling to allow another power centre in the Lingayat vote bank, Mr Yeddyurappa was determined to defeat Mr Shettar's chances.