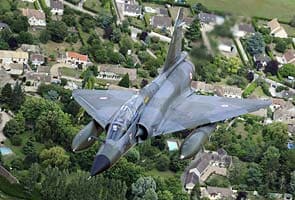 New Delhi:
The government has cleared a $2.4 billion deal with France for upgrading India's Mirage-2000 combat planes, informed sources said.
The deal was cleared at a meeting of the Cabinet Committee on Security (CCS) chaired by Prime Minister Manmohan Singh, the sources said.
The move comes even as Defence Ministry and the Indian Air Force (IAF) top brass is split over the high cost of upgrading the IAF's 52 Mirage-2000 aircraft and the likely benefits to the country's future air power needs.
Taking into account $1 billion for new weapons and another $500 million for new facilities at Bangalore-based Hindustan Aeronautics Limited (HAL) for the upgrade, the cost could rise to close to $4 billion, Defence Ministry officials said.
The cost of the upgrade may work out to $7.9 million per aircraft, which, the opponents of the deal contend, is the same as that of a new fighter jets that India is buying under the $10.4 billion medium multi-role combat aircraft (MMRCA) tender.
Those supporting the deal argue that once upgraded, the aircraft will be as potent as a new combat plane.
Among the upgrades planned for Mirage-2000 are a night vision goggle-compatible glass cockpit, advanced navigational systems, advanced Identification Friend or Foe (IFF) system, advanced multi-mode multi-layered radar, fully integrated electronic warfare suite and advanced beyond visual range (BVR) capability.
The new weapons include 450 MICA interception and aerial combat missiles.
French firms Thales and MBDA will be the weapons systems integrator and missiles supplier respectively.
Two of the planes will be upgraded in France by manufacturer Dassault Aviation, two in India with French help and the remaining 48 entirely by the HAL. The upgrade of the entire fleet will take nine years.
The IAF inducted the Mirage-2000 between 1982 and 1986.