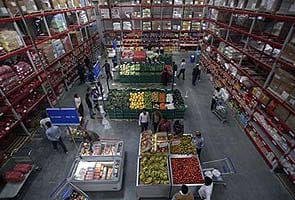 New Delhi:
The Prime Minister and Rahul and Sonia Gandhi have at recent rallies defended the recent reforms that reduced the union government to a minority, but their battle will soon move to a different arena - opposition parties are lining up to force a vote on the decision to permit the arrival of foreign mega-chains like Walmart.
The Winter Session of Parliament begins on November 22 and the CPI(M) has served notice for a debate followed by a vote on Foreign Direct Investment or FDI in retail. While the government does not have to seek a vote to endorse its decision, other parties say that the overwhelming opposition to the policy makes a vote obligatory.
Mamata Banerjee, who yanked her 19 Trinamool Congress MPs from the Prime Minister's coalition over the reforms in retail, has said her party will challenge him to survive a trust vote. The main opposition party, the BJP, says it will back any vote that challenges the new policy.
Ms Banerjee's party argues that the government allowed FDI in retail through an executive decision after the Trinamool had withdrawn from the coalition, and therefore a major policy was introduced by a minority government which Ms Banerjee's party describes as unacceptable.
That position puts her on the same side as her bitter political rivals - the Left.
"There are nearly 20 crores of people today dependent... 1/5th of our country are dependent including their families for survival on this sector. So therefore we think any such decision will have to be endorsed by the Parliament," said Left leader Sitaram Yechury.
The BJP points out that in December last year Pranab Mukherjee, who was then Finance Minister, had promised in Parliament that India's policy on FDI in retail would not be altered without consulting other parties. The government, it says, reneged on that deal.
(Read)
Mr Mukherjee, who is now the country's President, defended the reform today, describing it as necessary to re-energise the country's economy.
It's an argument that has yet to be accepted by some of the Congress' own allies, though these partners are unlikely to vote against the government on FDI if indeed a vote is permitted by the presiding officers of both houses.
After the Trinamool's exit, the DMK with its 18 MPs is the government's biggest ally, and its latest comments on FDI are unlikely to reassure the Congress.
"Let the DMK's stand remain a suspense. Only a movie with suspense does well," said the party chief M Karunanidhi today, adding that it will continue to protect the interests of traders and small vendors, a powerful vote bank in Tamil Nadu that says FDI in retail is a sell-out by the government.
(Read)
Sources say that DMK leader TR Baalu is likely to meet the Prime Minister soon to discuss how to avoid voting against the government without undermining its own stand. DMK members say the party is considering a possible "walk-out" if a vote on FDI does take place - this will allow DMK MPs to avoid taking any stand at all by boycotting the vote.
The government is unlikely to trip in Parliament. Last week, the Prime Minister met the two powerhouses from Uttar Pradesh who are crucial to his government's survival - he lunched with Mayawati and dined with Mulayam Singh Yadav, fierce rivals who provide external support to the UPA with 43 MPs between them.
(Watch: PM hosts BSP chief Mayawati for lunch)
Mayawati said recently at a rally that though she has not been in favour of FDI in retail, she is open to being persuaded of its merits.
Though Mr Yadav has also opposed the reforms in retail, he has said he will steer clear of any move that will allow "the communal forces" of the opposition BJP to benefit - a tacit signal that his Samajwadi Party may not consider voting against the government on FDI.