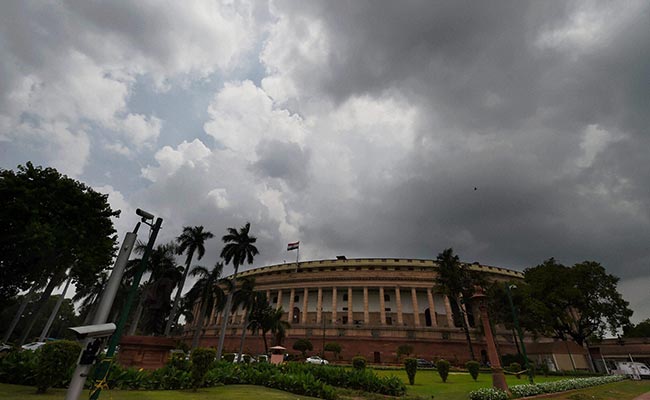 New Delhi:
Keeping its promise to provide succour to refugees from neighbouring countries, the government today introduced a Bill in Parliament to amend the Citizenship Act so that Hindus, Sikhs and other minorities of these nations could be granted citizenship even if they do not provide required documents.
Introducing the Bill in the Lok Sabha, Union Home Minister Rajnath Singh said many persons of Indian origin of Pakistan, Bangladesh and Afghanistan have applied for citizenship but unable to provide proof of their Indian origin.
Mr Singh said hence they are forced to apply for citizenship by naturalisation under the Citizenship Act which required 12 years of residency as qualifications for naturalisation in terms of the law.
This denies them many opportunities and advantages which are available only to Indian citizens even though they are likely to stay in India permanently, he said.
"It is proposed to amend the Schedule 3 of the Act to make applicants belonging to minority communities from the aforesaid countries eligible for citizenship by naturalisation in 7 years instead of existing 12 years," he said.
There are thousands of Hindus, Sikhs, Jains, Buddhists, Christians and Parsis who have entered India after facing religious persecution in countries like Pakistan, Bangladesh and Afghanistan without any valid document.
These refugees have been facing difficulty in getting Long Term Visa (LTV) or Citizenship and the existing law does not allow anyone granting Indian nationality if he or she cannot show proof of documents on country of birth and therefore they have to stay at least 12 years in India.
In its election manifesto before the 2014 Lok Sabha elections, the BJP had declared India as "a natural home for persecuted Hindus" who "shall be welcome to seek refuge".
Prime Minister Narendra Modi, during campaigning in 2014 had made a distinction between Hindu and Muslim refugees from Bangladesh and arguing that the former should be accommodated.
"We have a responsibility towards Hindus who are harassed and suffer in other countries. India is the only place for them. We will have to accommodate them here," PM Modi had said.
Ever since the Modi government came to power, several concessions have been offered to the persecuted Hindus, Sikhs, Jains, Buddhists, Christians and Parsis of the neighbouring countries that include issuing LTVs, allowing such people to buy residential properties, procuring PAN cards, Aadhaar card, driving licence, opening bank accounts, lowering of visa fees besides others.