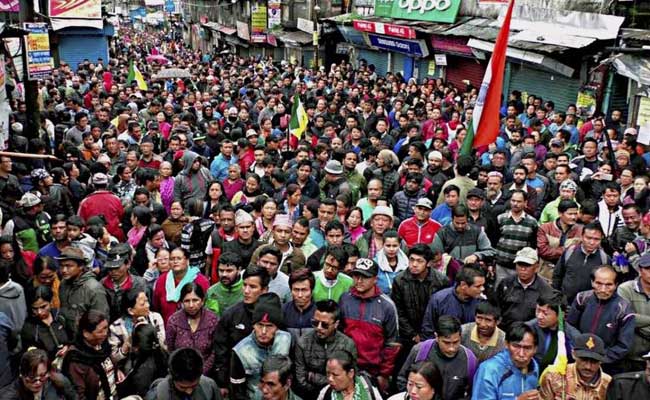 Darjeeling (West Bengal):
On the edge for nearly a month over the demand for a separate state by Gorkha ethnic groups, Darjeeling saw violent protests on Wednesday after the supporters of Gorkha Janmukti Morcha (GJM) allegedly set on fire a tourist information office at a mall in the heart of the city. They also damaged a few government vehicles on the 28th day of the indefinite shutdown, police said.
The supporters of Gorkha Janmukti Morcha, the party leading the protests, took out a massive funeral procession in Darjeeling town yesterday with the body of Ashok Tamang, who died on Tuesday at a hospital in the neighbouring Sikkim. Mr Tamang was shifted to a hospital in Sikkim after he was allegedly injured in clashes between the police and GJM supporters on Saturday.
The GJM claimed that Mr Tamang received serious head injuries during a baton charge by the police. The police, however, said it was not clear whether he died of injuries or some other reason.
"We are waiting for the post-mortem report. We can only comment after seeing it," a senior police officer said. Tamang worked at the Darjeeling Municipality and is survived by two children and an ageing mother.
The Central Reserve Police Force and Seema Suraksha Bal personnel have been deployed in the several areas of the violence-hit hill district in Darjeeling. Internet services remained suspended for the 28th day on Tuesday. Government property has been damaged in several areas of Darjeeling by angry protesters and this includes the Sonada station on the Darjeeling Himalayan Railway, a UNESCO world heritage status narrow gauge railway.
The Calcutta High Court has also intervened as the state and centre continue to bicker over deployment of forces.
The hill parties in Darjeeling will start a hunger strike from July 15 to push their demand for a separate state of Gorkhaland.
An award-wapasi programme has also been planned on July 13 as those who support the Gorkhaland cause have decided to return awards given to them by the state government.
Sikkim Chief Minister Pawan Chamling has asked the Centre to intervene in the Darjeeling crisis and also sought help to ensure that road connectivity to Sikkim is not affected by the ongoing agitation in the hills.
Refusing the demand for separate Gorkhaland, the ruling Trinamool Congress has asked the agitators to shun violence and come for talks but the Gorkha Janmukti Morcha has said they will not talk to the state government.
"We will fight to keep West Bengal united and we will never let it be divided," Senior Trinamool leader Partha Chatterjee had said.