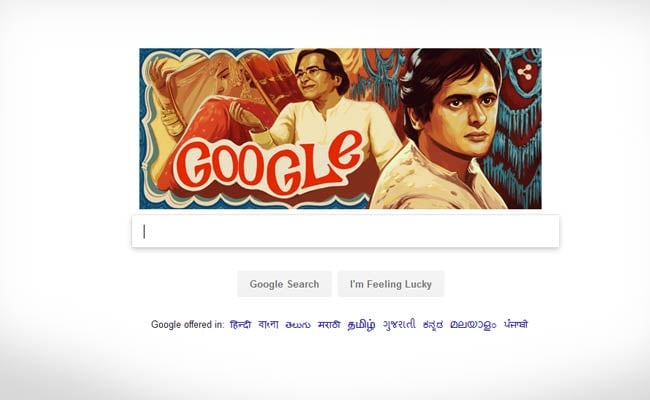 New Delhi:
Google has dedicated its today's doodle to honour late Bollywood actor Farooque Shaikh on his 70th birth anniversary. Born on this day in 1948, Shaikh's untimely death at the age of 65 on December 27, 2013, has left a void in in the Indian cinema. Farooque Shaikh grew up in Mumbai, setting out to become a lawyer like his father. He studied law at college and continued to dabble in theatre on the side, and eventually decided to give acting a go.
Shaikh got his first break in MS Sathyu's landmark film
Garam Hava
(1973), which addressed the plight of Muslims who had opted to stay back in the land of their forefathers and shunned Pakistan's one nation -one religion theory. After that his other notable performances include his key role in Satyajit Ray's
Shatranj ke Khiladi
(1977) , his lead role in
Gaman
(1978) and other films like
Chashme Baddoor
(1981),
Umrao Jaan
(1981),
Bazaar
(1982) among others.
In the early 2000s, Shaikh's ability also found a platform on the small screen. He appeared in the serials like
Chamatkar
and
Ji Mantriji
, the Indian take on the British comedy Yes Minister. He was also seen in the talk show
Jeena Issi Ka Naam Hai
in 2002 and in its second season in 2006.
In a post explaining the doodle, Google wrote, "Today's Doodle by Nimit Malavia is a tribute to Farouque Shaikh's cinematic career in a style evocative of hand-painted movie posters of the 1970s, and especially Umrao Jaan. We see the wide-eyed romantic hero of the 1970's mature into a comfortingly familiar TV presence of the 1990's, bridging the gap between mainstream and arthouse cinema in India along the way."
Farooque Shaikh died of a heart attack in Dubai at the age of 65 on December 28, 2013.The actor who once said that he does not wish to be remembered, "Everyone comes into and goes from this world.." has left behind a rich legacy of his work that makes him unforgettable.