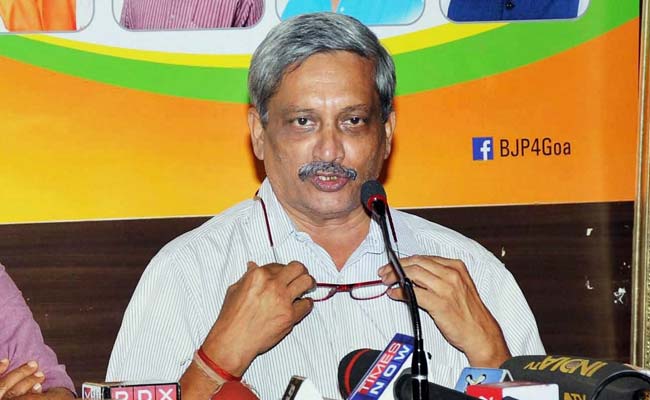 Panaji:
It was a joint press conference, but Goa's Chief Minister Laxmikant Parsekar said not a word. By his side, Union Defence Minister Manohar Parrikar did all the talking, declaring that the BJP will come back to power with a two-thirds majority in Goa, which votes tomorrow. For about 10 seconds as the presser started, no one spoke and Mr Parrikar joked that for once, even the media agreed with everything he said. This is clearly his turf.
The state's "super Chief Minister" told NDTV after Thursday's presser that he does not see Arvind Kejriwal's Aam Aadmi Party making a difference. "Anybody is free to contest elections. It's a different question if there's space for them," Mr Parrikar said.
The big promises that the Congress and AAP have made - the latter has added "Fish for all" in a last-minute dash - was "because they know they will lose," the Defence Minister said.
At the press conference, Mr Parrikar's answers were, characteristically, bold and fierce. He said he had campaigned in the 36 of Goa's 40 constituencies that the BJP is contesting and was confident the party was returning with a big majority. But he refused to answer questions on whether he would be back in Goa as Chief Minister, a matter of much speculation ever since top leaders like BJP chief Amit Shah and Nitin Gadkari dropped broad hints that he could be sent back.
"I will not answer questions based on assumptions," the minister said. On the Election Commission's notice to him on comments he has made during his campaign, Mr Parrikar said, "They put it up on the website and didn't give it to me till late last night. That is not procedure. They want an answer by tomorrow. I'll give them an answer by tomorrow."
As he rushed away, the 61-year-old apologised for not sparing more time for reporters who still had many questions to ask him. "I am sorry I couldn't give you time. But one day I invited someone for a "Day with Parrikar" and they followed me into my friend's kitchen. It was very awkward," he explained, laughing.
In 2012, Mr Parrikar had led the BJP to victory in Goa after a volatile period that saw the state get multiple Chief Ministers. The BJP had won 21 seats, a majority on its own with regional partner MGP (Maharashtrawadi Gomantak Party) winning three. The Congress could win only 7 seats.
Less than three years into his term Mr Parrikar had moved to the centre and installed Mr Parsekar as Chief Minister.
This time they have fought separately and the BJP fears the MGP could eat into its votes. The ruling party has made a promise of stability its main election plank. The subtle hints on Mr Parrikar's possible comeback are seen as bait for voters, with Mr Parsekar not seen as the most charismatic of leaders.