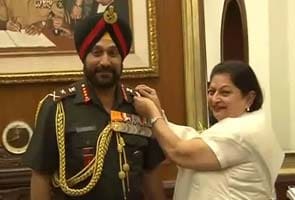 New Delhi:
General Bikram Singh, a veteran infantry officer, today took over as the 25th Chief of the Indian Army, succeeding General VK Singh whose 26-month tenure was mired in controversies.
General Bikram Singh, 59, will have a tenure of two years and three months in the top post.
(Know your new army chief, General Bikram Singh)
Prior to his appointment as Army Chief, General Bikram Singh was heading the Kolkata-based Eastern Army Command.
He has held several important appointments in counter-insurgency areas as the Corps Commander of the Srinagar-based 15 Corps and Akhnoor-based 10 Division as Major General.
(General Singh on his priorities)


The officer, better known as 'Bikki' to his friends, was commissioned into the Sikh Light Infantry regiment on March 31, 1972 after attending the prestigious Indian Military Academy (IMA).
At the IMA, he held the appointment of battalion cadet adjutant and was awarded the Jammu and Kashmir Rifles gold medal for 'tactics and leadership' and the Shriganesh Trophy.
He was awarded the 'Commando Dagger' and the 'Best in Tactics' trophy during his young officers' course at Infantry School.
He also served as an instructor at the Commando Wing of the Infantry School in Belgaum.
The officer was the face of the Army during the Kargil war when he was serving in the Military Operations Directorate in New Delhi, and used to brief the media about the progress in operations to drive out enemy troops from Indian territory.
As a brigadier, Singh attended the US Army War College in Pennsylvania and has served in two assignments with the United Nations in Central America and as the deputy force commander and GOC of Eastern Division in the Democratic Republic of Congo.
General Bikram Singh is married to Surjeet Kaur and the couple have two children.