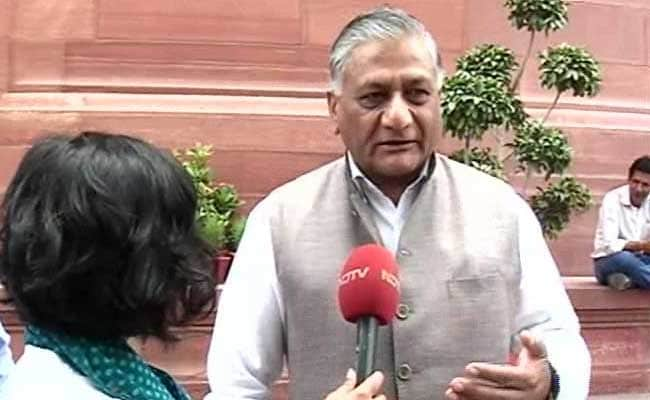 Highlights
Army veteran killed himself over insufficient pension
Opposition leaders take on government over his death
Suicide doesn't appear linked to pension: minister General VK Singh
New Delhi:
Till two days ago, Ram Kishen Grewal was an unknown soldier who served for nearly 30 years and then won the election in his village in Haryana to serve as its sarpanch (head of village council) after he retired.
Today, at his cremation, the former subedar drew the country's biggest politicians. From Congress Vice President Rahul Gandhi to Delhi Chief Minister Arvind Kejriwal, busy schedules were cleared to travel 100 kilometres to Bhiwani to claim that they stand by army veterans.
General VK Singh, former army chief and now a union minister, was not among them, though he has not been a bit player in the political controversy over the suicide. "Something that everyone should know - the deceased was a Congress worker. He became Sarpanch on a Congress ticket," the minister said, adding that "regardless, he was our soldier and the incident saddens me."
Mr Grewal was driven to suicide - he consumed poison on Tuesday at a government compound in the heart of Delhi - because he wasn't getting the pension he was entitled to under the scheme that's referred to as OROP: One Rank One Pension. Cleared by the government last year, the program is meant to equalize pension payments for soldiers of the same rank who served for the same amount of time. But OROP's implementation is flawed, and some of its basic features unacceptable, say former servicemen who have been protesting for months at Jantar Mantar in Delhi.
Every month, Mr Grewal was receiving about Rs 3,000 less than what he was entitled to after OROP was cleared. He was also owed arrears. The Defence Ministry has said that the gaps were created by the bank that was to disperse his payment.
"The bank had asked him to show paperwork and that they would rectify the issue. Had he had produced the paperwork, all his backlog would have been cleared," said General (retd) VK Singh, adding that it's imperative to determine whether the Subedar was assisted or egged on in killing himself. "Who gave him the sulphas (poison)?" he asked, adding that a phone conversation between Mr Grewal and his son that was recorded and is being treated as an audio version of a suicide note is suspect. On tape, the former soldier tells his son "I have consumed poison." (Scroll down to hear complete conversation).
"Would a son listen so patiently to a father as he commits suicide," the minister asked, "would any person who has taken sulphas (poison) be able to talk like this?"
Since yesterday, the former General has been attacked by opposition leaders for suggesting that Mr Grewal's "mental condition at the time of his death must be determined". Undaunted by allegations of insensitivity, he said today, "The things surrounding his suicide do not align with the OROP".
Mr Gandhi and Mr Kejriwal were detained by the police yesterday to prevent them from meeting with Mr Grewal's relatives.
The audio conversation between Subedar Grewal and his son hours before his death: