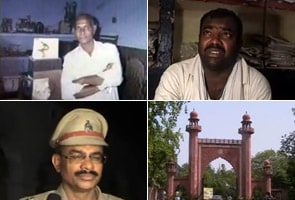 Aligarh:
In February, a video showing Dr Sreenivas Siras, a Marathi Professor at the prestigious Aligarh Muslim University (AMU) having sex with a rickshaw puller, Irfan, created quite a stir. The Professor was suspended from the university and forced to leave two months later.
He was found dead under mysterious circumstances in his university accommodation. The Chief Judicial Magistrate (CJM) had ordered registration of First Information Report (FIR) against several university functionaries. But despite that till date, none of them have been questioned. On the contrary, Irfan has been continuously harassed driving the poor man to attempt suicide.
The poor rickshaw-puller Irfan was saved from a desperate self-immolation attempt on Friday. Irfan says constant harassment by the police in the last several months, finally drove him to take the extreme step.
His only crime was that he was found having sex with Professor Siras of the prestigious AMU in February, for which he says he was promised money.
Two months later, the gay Professor was found dead in mysterious circumstances in his university accommodation.
Aligarh Muslim University Teacher's Association (AMUTA) had demanded a high-level probe into the alleged suicide of Siras, who was placed under suspension by AMU Vice Chancellor P K Abdul Aziz on charges of homosexuality at his house inside the campus after a sting operation by a television channel. The Allahabad High Court revoked the suspension and ordered his reinstatement after he filed an appeal against the university action.
Immediately, the police pointed the needle of suspicion at Irfan and he was picked-up twice and questioned.
Then again, for no apparent reason, he was picked up for the third time barely two weeks ago and was kept in the lockup for three nights, where Irfan was allegedly beaten severely.
Irfan is badly burnt, but fortunately, his wife managed to save his life. Friends and supporters of Professor Siras in the university claim that he is simply being made the scapegoat by the police.
"They keep catching him because he's poor even though there is no FIR lodged against him, but in contrast the AMU functionaries against whom the FIR has been lodged...they have not even been questioned once in the last several months," said Professor Madihur Rehman, Associate Professor, Department of English, AMU.
The day after Professor Siras was found dead his ATM card, wallet and his mobile phone were found to be missing. Nearly three months later, there has been little or no headway in the case.
The police it seems has gone after Irfan in a witch hunt to try and find some way in which they can prove him to be the guilty.