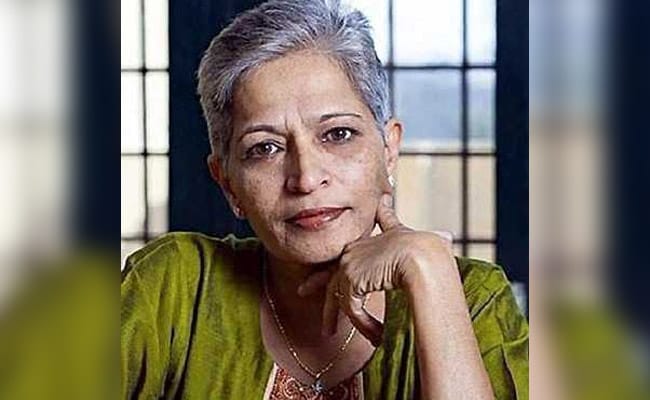 New York:
A leading human rights organisation has called for prompt investigation into the killing of outspoken journalist Gauri Lankesh, saying that the "possibility" that it is a "politically motivated" shooting needs to be fully investigated.
Ms Lankesh, 55, known for her left-leaning outlook and forthright views against "Hindutva politics", was shot dead by unidentified assailants in Bangalore on Tuesday.
The Human Rights Watch said Indian authorities should promptly act on the announced investigation into the killing by unidentified gunmen of Ms Lankesh, an "outspoken journalist" who "campaigned for democracy, secularism, and civil liberties and was a vocal critic of the Hindu nationalism."
"The motives for Gauri Lankesh's killing are not yet known, but the possibility of a politically motivated shooting needs to be fully and promptly investigated," said Meenakshi Ganguly, South Asia director at Human Rights Watch.
"Authorities in India need both to bring (Gauri) Lankesh's killers to justice and to protect media freedom and the right to free expression," she added.
Ms Lankesh was the publisher and editor of Gauri Lankesh Patrike, a Kannada-language weekly.
Witnesses reported that she was fatally shot outside her home. Police said that the gunmen on motorbikes fired seven bullets at Ms Lankesh as she was walking into her home from the front gate after returning from work. The gunmen escaped.
"Indian artists and writers have previously launched powerful campaigns to protest assaults on free expression, including by returning their national awards, leading to a country-wide conversation on intolerance," Ms Ganguly said.
"People have the right to pursue their own brand of faith and patriotism, but the government should ensure that these are not forced upon others through threats and violence," she added.
Karnataka's state government has announced that a Special Investigative Team headed by an inspector general of police would investigate the killing.
It added that the police have secured footage from closed circuit television installed in Ms Lankesh's home. The state government should ensure that the investigation is carried out in an impartial, time-bound manner, Human Rights Watch said.
In a May 2016 report, Human Rights Watch documented ways in which overbroad or vaguely worded criminal laws, including criminal defamation, are used to stifle political dissent and harass journalists.
The group voiced concern that authorities have yet to properly prosecute those responsible for the killings of other writers and activists Govind Pansare, Narendra Dabholkar and MM Kalburgi.