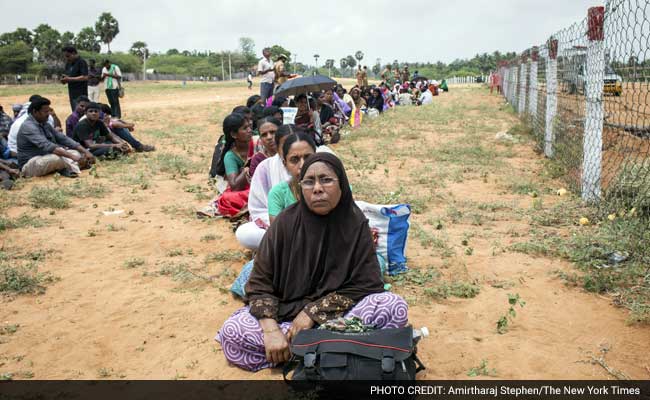 Rameswaram, India:
At the break of dawn, Nimmi Jaan sat down on a patch of red sand near a large tent that had been set up the night before. She was one of the first people there. By afternoon, a line would stretch out behind her, across a sun-scorched field, through a patch of palms, around a bend and out of sight.
She stared into the distance. Jaan, 60, had traveled more than 300 miles by train to reach Rameswaram as soon as she heard of the death of A.P.J. Abdul Kalam, a former president of India and the man credited with numerous scientific advances in the nation, including the development of nuclear weaponry.
"My husband and I had so wanted to meet him, but my dear passed away last year," she said, holding back sobs. "Everyone told me not to go by myself. But I had to. I used to be a teacher at a day care center, and I would tell the boys and girls what beautiful things Kalam Sir had said and show them his framed picture, may God bless it. I would tell them, 'You can make India the best country in the world.'"
On Wednesday, thousands upon thousands joined Jaan on the red sand, many of them having travelled since Kalam died Monday. They came to his hometown here on Pamban Island, shaped like a shark's tooth and just off the southern tip of the country, for just a moment's glimpse at his remains, flown in by helicopter.
By the time his coffin arrived, enveloped in India's tricolor flag, the gender-segregated lines of mourners were thick, and people stood with little space between them. Police officers enforced the lines by shouting. For relief from the blowing sand and unrelenting heat, the mourners plucked palm fronds and used them as umbrellas. Young men filled the branches of every tree in the vicinity, seeking the day's two precious prizes: shade and a view.
Kalam, a Muslim Tamil who died at 83, was one of the few Indian leaders able to bridge the country's political, religious and linguistic divides, and his death provoked an outpouring of grief across the political spectrum at a time when positions have hardened.
His ardent nationalism earned him favor with the right-wing Bharatiya Janata Party of Prime Minister Narendra Modi, and he was also embraced by the left-leaning Indian National Congress party. Like Modi, another enormously popular leader, he was a charismatic bachelor from an unassuming background who rose to prominence proclaiming a vision of a glorious future for India.
But his vision helped take India in a new direction, abandoning the nonviolent ethos advocated by India's most famous founding father, Mohandas K. Gandhi, in favor of a muscularly armed nation.
Though opposition to nuclear power and weapons in India is mostly localized and lacks support from major political parties, some on the left accused Kalam of being a hawk and of creating an arms-race mentality.
But to the mourners waiting patiently in line to bid Kalam goodbye, his role in creating a nuclear India was a source of pride and inspiration.
"We have lost the last great leader of India," said K. Madanprasad, 24, an engineer from Bangalore, 370 miles from Rameswaram, who said his career choice had been inspired by Kalam. "Through his work on our space and nuclear programs, he stopped our reliance on other countries and set us on the path to becoming a superpower. And all while being so humble, so down to earth."
V. Tamilarasan, 27, said he had seen Kalam speak when he was an undergraduate in engineering school, and had been impressed by Kalam's vast scientific knowledge and his ability to teach it. "He was supposed to speak about cryogenic freezing, but really, he ended up talking about everything in the entire world," he said.
Disappointed by divisive and limelight-seeking politicians, Tamilarasan said, "A typical leader doesn't work so well with others."
He had traveled from the central Indian city of Jabalpur, which took more than 24 hours by train and bus, and planned to return the same way after Kalam's burial.
Under a covered tent was the podium on which Kalam's body was laid, as well as chairs for his family and visiting dignitaries. Film stars and important politicians (in South India, one often leads to the other) showed up with their motorcades. In life, though, Kalam surrounded himself more with the strivers than the celebrities. He did not earn a professional doctorate, yet received many honorary ones and was referred to nationwide as Dr. Kalam. As a professor, he was known to dine and debate with his students, and he made sure that 100 children from each state in the country attended his presidential inauguration in 2002, despite concerns about space.
It is now the young, primarily, who keep his quintessentially earnest inspirational quotes alive in social media posts.
Like Madanprasad, Saifullah Sharif, 18, said he had chosen to become an engineer because of Kalam. He just entered his first year of training and was accompanied to Rameswaram by his father.
"Other countries have missiles and satellites that we don't have," Sharif said, rattling off the names of all of India's weapons and the years of their first launches. "It is a big risk. I want to serve the country like he did. I want to create a new missile."
© 2015, The New York Times News Service