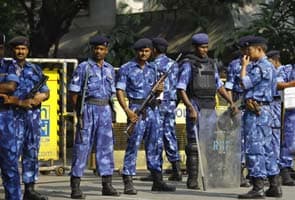 Mumbai:
The Shiv Sena said early on Thursday evening that its 86-year-old chief Bal Thackeray is much better now and is responding to medication. Mr Thackeray has had a stream of A-list visitors today, and Chief Minister Prithviraj Chavan is expected any time now at his home. Mumbai is calm, though the city police is on alert.
Senior Shiv Sena leader Subhash Desai said a while ago that Bal Thackeray's health was "stable" and "improving". A team of doctors from Mumbai's Lilavati hospital, with nursing staff, is stationed at Matoshree and has been constantly monitoring the Sena chief's health.
(Bal Thackeray stable now, says Shiv Sena)
Mr Thackeray has had trouble breathing over the last few days, and was described as critically ill last evening. But he was off life-support by this morning, Sena spokesman Sanjay Raut had said earlier, adding that the party was appealing through the media to Sena workers to not gather at Mr Thackeray's home, Matoshree, in suburban Bandra, where heavy security is in place to prevent any violence or protests by the party. However, by evening, about 1000 people had gathered outside Matoshree.
There is less traffic today than usual on Mumbai's roads and across the city, shops and even eateries are closed; railway stations too are unusually quiet. Today is a holiday, on account of the festival of Bhai Dooj; but Mr Thackeray's health, and the possibility of a backlash by his party should his condition deteriorate, has the city anxious and many people have taken the opportunity and stayed home.
Across the city, 48,000 policemen are on the streets in shifts. There is an increased presence of cops in Sena-dominated areas like Dadar, where the party's head office is. The Rapid Action Force has been deployed too to help maintain law and order, should the need arise. Areas like Kalanagar, Shivaji Park, Parel, Worli, Lalbaug, Currey Road, Chinchpokli and South Mumbai too have heavy security bandobast.
Sources said the Home Ministry in also touch with the Maharashtra government and additional para- military forces have been kept on stand-by. Chief Minister Chavan met senior officials and top cops last night to discuss security and other preparations.
Mr Thackeray's son, Uddhav, emerged late last night to address nearly 2000 workers gathered outside the family home. He asked Shiv Sainiks to stay calm, and to pray for Mr Thackeray's recovery. "I have not lost hope. You too must not lose hope. All efforts are on. Please pray." He also said, "It is a request that you maintain peace and calm. I do not want any complaints of violence to reach me."
(Watch: Uddhav asks Sena workers to stay calm, pray)
Mr Thackeray's nephew, Raj Thackeray, estranged till recently from Balasaheb and Uddhav, spent much of the night at Matoshree. He has made several trips in and out of Matoshree today. BJP president Nitin Gadkari flew in from Nagpur. NCP chief Sharad Pawar and film maker Madhur Bhandarkar were at Matoshree, as were actor Salman Khan and his brother Arbaaz. Industrialists Venugopal Dhoot and Rahul Bajaj visited too and the CM is expected to arrive shortly.
Actor Amitabh Bachchan and his son Abhishek were among those who visited late last night. Mr Bachchan's kurta was torn as he tried to make his way into the house through the huge crowd. He later tweeted, "Yes both Abhishek and me were injured with cuts, but are fine and back home ... the doctors at 'Matoshree' attended on us !"
President Pranab Mukherjee, who was to begin a two-day visit to Mumbai today, has cancelled his trip. Sources said this was on account of Mr Thackeray's uncertain health condition.