Highlights
French defence minister wrote to Nirmala Sitharaman last month
She wanted talks for more Rafales to be announced during Macron's visit
Government sources say talks likely after first Rafales arrive next year
New Delhi:
A letter from the French Defence Minister Florence Parly addressed to her Indian counterpart Nirmala Sitharaman on February 26 indicates that the French government was keen to announce that both countries are in talks for 36 more Rafale jets for the Indian Air Force.
This was, however, not announced
in the joint statement
made by Prime Minister Narendra Modi and the visiting French President Emmanuel Macron
in New Delhi on Saturday
and it's unclear at what stage the talks presently lie.
In her letter to Ms Sitharaman, Florence Parly wrote, "As written by the President of the French Republic to the Prime Minister of India on 25th October 2017, we would like to initiate discussions on the proposal of providing an additional thirty-six aircraft to the Indian Air Force, with a very significant share of Make in India." Ms Parly added, "A message to this effect during the visit would be particularly appreciated."
Senior sources in the Ministry of Defence Ministry whom NDTV spoke to in the days prior to the visit of the French President have said that while New Delhi has not ruled out a further acquisition of Rafale fighters, there is no immediate decision likely till the first tranche of Rafales, which are already on order, start arriving in 2019. These jets were ordered in 2016 in a controversial Rs 58,000-crore government-to-government deal between India and France.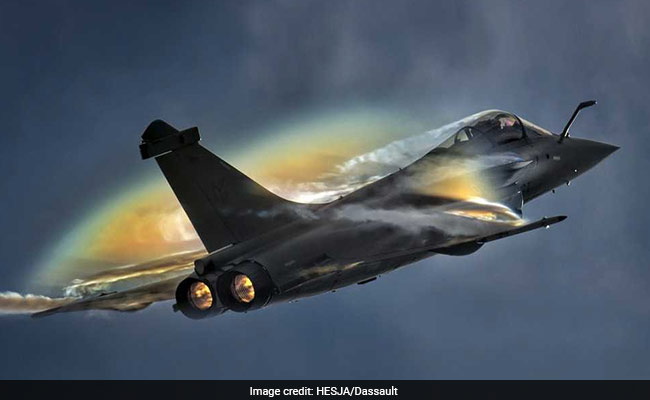 As far as the existing contract is concerned, "the construction of the aircraft intended for the Indian Air Force is progressing according to schedule" wrote Ms Parly in her letter. She added that France remains committed to fulfilling its offset commitments as part of the deal whereby manufacturing and other technology will be transferred to India as part of the overall deal worked out between both countries. "With regard to offsets, French companies are determined to establish long-term partnerships with public and private Indian companies. They have advanced. Thus, the Nagpur production unit should be able to manufacture the first components in spring."
India and France have also been trying to close out a deal to co-develop and refine India's indigenous jet fighter engine, the Kaveri, a project where the Defence Research and Development Organisation (DRDO) has been unable to meet project objectives. The Kaveri was meant to power India's Light Combat Aircraft Tejas which has, instead, had to rely on US manufactured General Electric GE-404 engines. The joint statement says ''the leaders noted ongoing discussions between DRDO and SAFRAN on combat aircraft engine and encouraged necessary measures and forward looking approaches to facilitate [an] early conclusion.''
The acquisition of Rafale fighter jets for the Indian Air Force has been one of the most controversial defence deals every signed by India. In a statement yesterday, the Congress party claimed that the Rafale tender had resulted in ''
a staggering loss of Rs 12,632 crore
'' since ''India is clearly paying an extra price of Rs 350.90 crore per aircraft'' compared to what Qatar and Egypt are paying for jets they have ordered from Dassault, the manufacturer of the Rafale. These claims have been vociferously countered in the past with Defence Minister Nirmala Sitharaman recently telling reporters, "Don't compare it (the Rafale deal) with Bofors. There is no scam here."