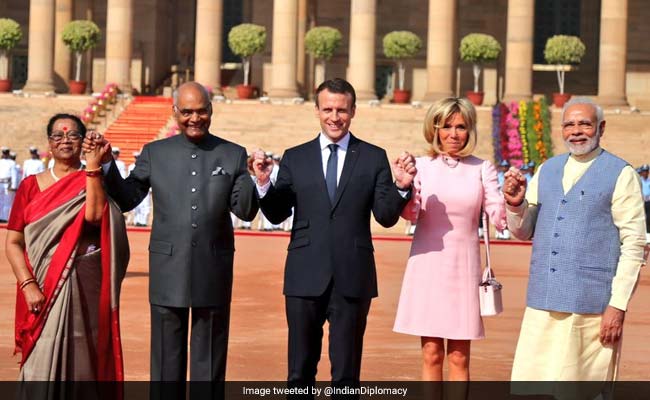 New Delhi:
French President Emmanuel Macron, who arrived in India last evening on his four-day visit, met Prime Minister Narendra Modi for talks to further strengthen ties between the two countries. PM Modi welcomed President Macron by receiving him at the airport in Delhi and greeted him with a hug. President Macron will "spend a lot of time with Prime Minister Narendra Modi," a source in the French presidency has said, adding that the two leaders had "formed a close relationship" during President Macron's first nine months in power. President Macron is accompanied by his wife Brigitte Marie-Claude Macron, businessmen and top officials. President Macron's visit is aimed at strengthening the bilateral economic, political and strategic dimensions of our engagement, the foreign ministry said in a statement ahead of his arrival. Prime Minister Modi and French President Macron met today for detailed talks on boosting ties between their countries. This will be followed by delegation-level talks, where a number of agreements will be signed between India and France. There will also be a joint press statement by the two leaders.
Here are the highlights of French President Emmanuel Macron's visit to India and his meeting with PM Narendra Modi today:
Joint Press Statement By Prench President Emmanuel Macron and PM Modi
After a 90-minute long meeting between Prime Minister Narendra Modi and French President Emmanuel Macron and delegation-level talks between the two sides, 14 agreements have been signed between India and France. This is followed by the joint press statement by the two leaders.
Here are the highlights of the press statement by Prime Minister Narendra Modi:
You welcomed me in Paris last year with a warm hug. I am happy that I have got an opportunity to welcome you in India. Our strategic partnership may not be many years old, but our spiritual partnership is ages-old.

Our meeting is not between two leaders of two nations but the meeting of two civilisations.
It is not a coincidence that the echo of Liberty, Equality, Fraternity is also recorded in the Constitution of India, not only in France. The societies of our two countries are standing on the foundation of these values.
The history of bilateral cooperation between India and France in areas of defence, security, space, and high technology has been a long one.
Today, I consider the agreement of reciprocal logistics support among our armed forces as a golden step in the history of our close defence cooperation.
We believe that the most important dimension for the bright future of our bilateral relations is our people-to-people relationship. We want our young people to know each other's countries, look at each other's country, understand and work in each others countries so that we have thousands of ambassadors to take forward our relationship.
Therefore, today we have made two important agreements, one agreement is to recognize each other's education qualifications, and the second is our migration and mobility partnership. These two agreements will prepare a framework for closer relations between our countrymen, our youth.
India and France have taken a big leap forward in our ties. Be it land, water, air, or space, our cooperation and ties bind us together in all.
Tomorrow President Macron will be co-chaired at the International Solar Alliance. President Macron and I plan to work together to battle climate change for the sake of planet Earth's future. We are committed to the success of the International Solar Alliance.
We welcome France's Make in India commitment.
We both believe the Indian Ocean region is very important for the future of peace in the world - specially freedom of navigation. This will be a joint strategic region for us.

Railways, environment, space security are just some of many areas of our deep cooperation.
Here are the highlights of the press statement by French President Emmanuel Macron:
India is our strategic partner in South Asia and we want to be yours in Europe.
The trust we share is aligned specially on threats to security by global terrorism. We have decided to do more on cyber warfare and counter-terrorism. We have agreed for an operational alliance on this.
Stability in the Indian Ocean region is very important for the stability of the entire region, and we are with India for freedom of navigation in the Indo-Pacific.
We have decided to put together a strategy to share intelligence as well as military bases. Different divisions of all our armed forces to cooperate and collaborate.
Our space agencies will conduct joint maritime surveillance.
A French company helped India build the Scorpene submarines. This was done under the Make in India programme.
We want to fully implement our commitment to solar energy. There are many who look to fund projects as well.
There are at least 50 contracts that are being signed between India and France on climate, railways, electric mobility, urban infrastructure, renewable energy, nuclear technology, etc. We look forward to investing in India's future.
We have also increased our partnership for space programs. There will be increased cooperation between our space agencies.
We have also partnered with India in the area of agriculture.
France is actively a part of India's knowledge summit with more than 500 agreements and investment. We plan to invest in India's human capital.
We want France to be the entry point for India to the rest of Europe.