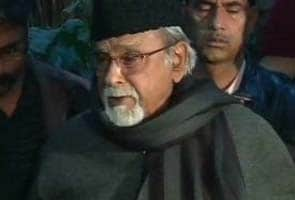 Gurgaon:
Former Prime Minister Inder Kumar Gujral is still on a ventilator but is stable, his son Naresh Gujral said on Monday.
"He is still on the ventilator but he is stable," Naresh Gujral, a Rajya Sabha member from the Shiromani Akali Dal, said. "The doctors are hoping for the best and we are all praying for his well-being."
Earlier on Monday, doctors had described the former prime minister's condition as "very critical".
"He is very critical, medicines are not showing much effect, good wishes can help him better," a senior medical consultant, who did not wish to be named, said.
Mr Gujral, 93, was admitted to the Medicity Medanta Hospital here with a lung infection on November 19.
Another senior consultant at the hospital termed Mr Gujral's condition "critical but stable".
"The condition of the former prime minister is critical but stable and changing minute by minute," admitted the consultant, also speaking on the condition of anonymity.
A team of nine senior consultants headed by Dr. Naresh Trehan is keeping a close watch on the patient, he added.