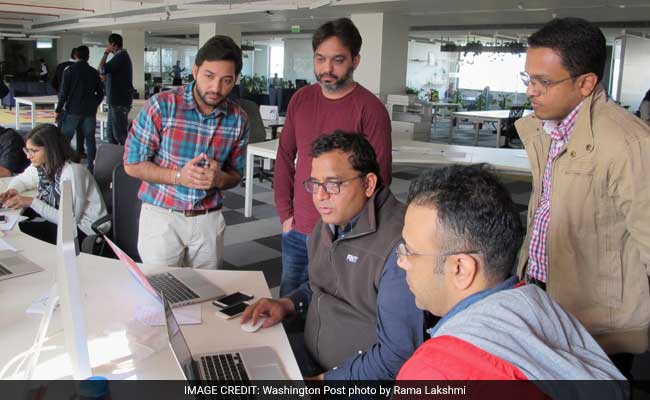 Noida:
As Indian Prime Minister Narendra Modi was announcing his sudden decision to ban all large currency notes on a crisp November night, Vijay Shekhar Sharma was being feted by Forbes magazine in Mumbai. His phone was on silent mode.
Halfway through the red carpet event, Sharma turned on his phone, which exploded with calls, texts and notifications from his office at Paytm, India's largest e-wallet business.
He called his staff and said, "Our time has come."
In the days that followed, the effects of the government's surprise move, meant to cut down on corruption and money laundering, reverberated throughout India. Banks scrambled to replace the banned bills. People stood in long, serpentine lines without cash.
Overnight, Sharma's Paytm, which allows users to pay bills online, became the default payment app for millions. The number of users jumped from 125 million to 185 million in just three months.
Its founder, the burly, bespectacled Sharma, emerged as the undisputed "king of demonetization."
Even before November 8, Sharma's rapid five-year rise had become part of start-up lore in India. He is swarmed for selfies at airports and hotels. He hobnobs with Bill Gates, power-struts at Davos, and is a case study for Harvard Business School students. His $8 billion company is the country's official cricket team sponsor, a coveted tag for India's billionaires.
"After my engineering degree, I could have easily got a job in America like so many people, but I dreamt very early of creating a Silicon Valley right here," he said in a recent interview here.
India has the third most internet users in the world, about 350 million, after the United States and China. This has spawned a new generation of internet millionaires heading successful e-commerce and tech start-ups.
"These start-up entrepreneurs represent a new cult of in-your-face competitiveness and aggression," said Shankkar Aiyar, a financial commentator. "Many of them have emerged from India's small towns and are not the pedigreed big city players. Their credo is, 'Give me the opportunity and see what I can do.' Sharma personifies this cult."
At his glass-fronted, suburban office, the wall and coffee mugs carry one message: "Go big, or go home." Nobody has a cubicle in the buzzing office. Sharma ordered his young, scruffy techies to go on the attack mode. "Go capture half the online movie ticket market by April," he said.
His ambitious new payment bank will benefit the unbanked poor when it launches in April, he said. "I want to be the wealth manager for the auto-rickshaw driver dude."
His office has Che Guevara posters alongside Om signs. He drives a blue BMW, but when he travels, he does not just want the best flight option, he wants the cheapest.
"I have not forgotten the value of hard-earned money," he said.
Growing up in the northern Indian town of Aligarh, Sharma studied in a school that used Hindi, not English, for instruction. When he moved to the capital to study at an engineering college, he was bullied for his poor English.
"The professor used to call me a 'useless boy,' " Sharma recalled.
He improved his English on his own, at night, earning money by creating web pages and content management systems for small companies while he was still in college. But he went broke in 2003 after he borrowed from friends' families for a start-up that did not make money. He could not pay for rent or food.
Then he built a business offering services to cellphone companies and sent whatever money he made to help his father repay loans.
A vegetarian, a non-smoker and a teetotaller, Sharma would normally be regarded as a "suitable boy" in India's arranged marriage market. But he was rejected a few times because the "entrepreneur" tag suggested he was not stable.
"He never hides his humble background," said Renu Satti, his decade-long colleague. "That is what makes him strong and grounded."
His marriage was finally arranged in 2005 when his bank balance improved. He has one son. He founded Paytm in 2011 but got his big break when the Chinese e-commerce giant Alibaba and an affiliate invested in it. Since 2015, Alibaba has invested more than $800 million in Sharma's ventures, which include an e-wallet, a payment bank and an e-retail site. He now employs 17,000 people in 400 cites.
Sharma has also earned new, unexpected enemies. A social media campaign attacked Paytm, calling it Chinese-owned. The morning after demonetization, he took the audacious step of running newspaper ads with the prime minister's picture, congratulating him for "taking the boldest decision in the financial history of independent India."
Political rivals began hinting at possible crony linkages between Sharma and Modi.
Rahul Gandhi, the Vice-President of the opposition Congress party, said Paytm stood for "Pay to Modi."
"Overnight, Modi's critics began attacking me," Sharma said. "I don't think there was anything wrong with the advertisement. I suppose I am naive. That is what happens when you are a first-generation CEO."
About five years ago, event organizers would hesitate to invite Sharma to speak on stage.
"Nobody knew what he would end up saying on stage - he was not known for political correctness or polish," said Prasanto K. Roy, a technology expert. But his early struggles, grit and earthiness began to seem cool.
"Success has not changed him. He has retained his energy and raw ambition, and his extreme candor on public forums," Roy said.
Recently a video of Sharma's curse-filled pep talk at an office party on New Year's Eve went viral and drew criticism. In the video, he wears a hoodie, flashes hip-hop hand sign and lets out blood-curdling screams.
"We made others piss in their pants," he said.
Many said this is very un-CEO-like behavior. He said it was a private party.
Success, however, continues to surprise him. Gates told him to expand his company aggressively during a private dinner in 2015 in New Delhi.
"I was thinking, 'You have heard of my company?'" Sharma said. "At Davos, I was in the same room as David Cameron and Sheryl Sandberg. All the while I was going, 'Oh my god, oh my god!'
"I am tickled. In my head, I am always giggling at such meetings."
Disclosure: Paytm's parent company One97 is an investor in Gadgets 360(Except for the headline, this story has not been edited by NDTV staff and is published from a syndicated feed.)