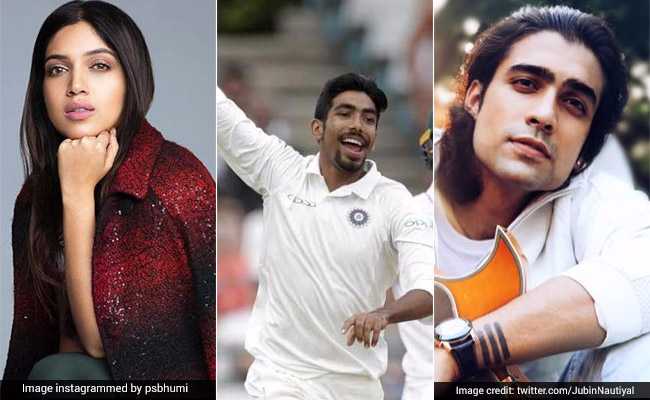 New Delhi:
Business magazine Forbes has released a 30 Under 30 list that features Indians in their 20s who are "shaping new India". The names have been selected depending upon three broad criteria - the extent of impact of their achievements, their ability to disrupt the status quo, scalability of the business or line of work and their potential to stay a long-term player, says the magazine. The exhaustive list which is spread across 15 categories has names of pistol shooter Heena Sidhu, right-arm fast-medium bowler Jasprit Bumrah, singer and song writer Jubin Nautiyal, Indian hockey goalkeeper Savita Punia, actress Bhumi Pednekar among others.
Here's a look at 'Forbes 30 Under 30' Young Achievers:
Since her Bollywood debut as an actor in 2015, Bhumi Pednekar gave three back-to-back smashing hits and proved that she is no "one film wonder". The first three films she chose had important social subjects - middle class prejudices in choosing a bride, open defecation, erectile dysfunction that have left a lasting impact on the audience.

Singer and song writer Jubin Nautiyal is the voice behind several hit songs including "Bawara Mann", "The Humma Song", "Zindagi Kuch Toh Bata", "Ek Mulaqat", among others. His voice has touched chords with the audience and has left them asking for more.

Heena Sidhu is a pistol shooter who became the first Indian woman to reach number one in world as per the rankings by the International Shooting Sport Federation (ISSF).

Sahil Naik is a sculptor whose first solo exhibition, Ground Zero depicts a world stripped of human life and its small joy, using miniatures.

Design innovator Kshitij Marwah, along with his team, developed Voxel, the world's first holographic headset that works with smartphones and Quark 360-the world's smallest 360 Virtual Reality (VR) camera.

Designer Ranjan Bordoloi created a collection called 'Pitoloi ' which has small stools and a barstool made by cutting sheets of brass using ancient floor-based coal welding technique. He was the only Indian to walk away with Red Dot Award: Design Concept 2017.

Gaurav Munjal, Roman Saini, Hemesh Singh, co-founders of Unacademy, an online learning platform that offers free education to its users through videos.

Rohit Ramasubramanian, Karan Gupta, Himesh Joshi and Arjit Gupta, co-founders of Zefo, an e-commerce platform where one can buy and sell used furniture and appliances online.

"Masaan" actor Vicky Kaushal's performances have got acclaim from audience and critics alike. The promising actor has a strong line-up of films ahead: Meghna Gulzar's Raazi with Alia Bhatt, Rajkumar Hirani's biopic on actor Sanjay Dutt and Karan Johar's Love and Lust which is a series of four short films.

Actress Mithila Palkar rose to fame with her 'Cup Song' that garnered 2.9 million views and becme an internet sensation. She is now featuring in plays, commercials and movies like Katti Batti and Muramba.

Ranjeet Pratap Singh, Sankaranarayanan Devarajan, Prashant Gupta and Rahul Ranjan are co-founders of Nasadiya Technologies/Pratilipi, a self-publishing portal.

Tarun Mehta and Swapnil Jain, co-founders of Ather Energy - a start-up building India's first Smart Electric Scooter.

Indian hockey goalkeeper Savita Punia has over 100 international caps to her credit.

Harmanpreet Kaur plays as an all-rounder for the Indian women's cricket team.

Designer Alan Alexander Kaleekal who is founder and creative director fashion label "Kaleekal".

Jasprit Bumrah, right-arm fast-medium bowler for the Indian national cricket team. He holds the record for maximum wickets in Twenty20 International in a calendar year.

Aditya Sharma rose to become a partner in global consultancy firm McKinsey and Company in less than seven years of his stint there.

Shraddha Bhansali, Founder of Candy and Green, an ingredient-centric clean-eating vegetarian all-day restaurant and bar in Mumbai.

Legal writer and lawyer Gautam Bhatia is part of the team which is working on multiple challenges to the Aadhaar Act.

Chirag Chhajer, co-owner of Burma Burma, a vegetarian Burmese food restaurant.

Satish Kannan, Enbasekar Dinadayalane, co-founders of DocsApp, a digital platform with a curated list of more than 2,000 specialist doctors.

Deepanjali Dalmia, Founder of Heyday Care which produces biodegradable and organic sanitary napkins.

Rohan M Ganapathy and Yashas Karanam who are co-founders of Bellatrix Aerospace, a research and development company developing orbital launch vehicles (rockets) and electric propulsion systems for satellites.

Pawan Gupta, Nipun Goyal and Mudit Vijayvergiya, co-founders of Curofy, a networking mobile app where over 200,000 "verified" doctors discuss more than 400 cases every day.

Vidit Aatrey and Sanjeev Barnwal, co-founders of Meesho, a mobile app that helps merchants sell more efficiently through social media.

Ankit Agarwal, Karan Rastogi, co-founders of HelpUsGreen which processes waste flowers from temples from temples and mosques into patented lifestyle products providing livelihoods to 1200 rural families.

Manoj Meena and Sibabrata Das, co-founders of Atomberg Technologies, makers of fans that run on brushless DC motors (BLDC) and claim to be completely noiseless.

Janhavi Joshi and Nupura Kirloskar, co-founders of BleeTech Innovations that works for the hard-of-hearing community by providing technological and design-driven solutions.

Suhani Parekh, founder and creative director of Misho jewellery which is "sculpted as modern architecture for the body."

Abhinav Pathak, Saketh BSV, Yogesh Ghaturle and Sathya Narayanan, co-founders of Perpule, a self-checkout application for express checkouts and easy payments in retail outlets.
Post a comment