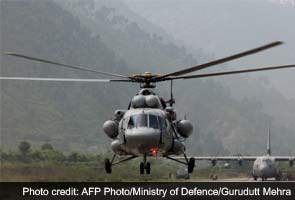 New Delhi:
The probe into how a sophisticated Russian-made Mi-17V5 helicopter of the Indian Air Force crashed during a rescue mission in flood-ravaged Uttarakhand last month, which killed all 20 on board, has hit a setback.
The crucial Cockpit Voice Recorder (CVR) of the chopper has been found broken into three pieces.
The CVR has to be reconstructed before any recordings of the discussions between the pilot and the co-pilot can be accessed. The reconstruction of what happened moments before the crash would be incomplete without the CVR.
It has now been sent back to Russia for a reconstruction.
The helicopter had crashed into the side of a mountain; there was no distress call from the chopper before it went down. It was one of three flying back from Kedranath, the epicenter of the disaster. On board were five air force personnel, six men from the Indo-Tibetan Border Police (ITBP) and nine from the National Disaster Response Force (NDRF).
Over one lakh people were rescued after floods and landslides wreaked havoc in the hill state. The rescue operations were spearheaded by the Air Force and the Army.