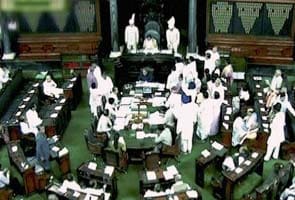 New Delhi:
Amid uproar over several scams, government today sprang a surprise over the Opposition in the Lok Sabha by taking up the ambitious National Food Security Bill for consideration despite protests.
A brief debate was held amid an unprecedented din with members from Left and Right in the Well denouncing "dictatorial ways" of the government in pushing through the much talked about legislation when Parliament is paralysed over various scams. BJP members were joined by Left members in denouncing the Congress-led coalition.
Congress President Sonia Gandhi, whose brainchild is the Food Security Bill, was prominent among those present. Mrs Gandhi, who is also UPA Chairperson, virtually led the treasury benches in marshalling forces in favour of the legislation.
Flanked by Parliamentary Affairs Minister Kamal Nath, she was seen gesturing to members to make sharp but brief speeches. Mr Nath look amused at the situation.
Leader of the Opposition Sushma Swaraj appeared to have been caught off guard as Girija Vyas, who was in the Chair, took up the bill for consideration after the House approved the extension of the JPC on 2G scam till the Monsoon session.
BJP members were so agitated that they started thumping the side table of the Presiding Officer to draw the attention of Ms Vyas who chose to ignore their protest.
After Food Minister KV Thomas sang paeans of the key bill in the din, the inconclusive discussion saw Sanjay Nirupam, Dinesh Trivedi, Sanjeev Naik and Bhakta Charan Das speaking briefly on the proposed measure.
Members from Shiromani Akali Dal, a constituent of NDA, were seen demanding a Supreme Court-monitored SIT probe into the 1984 anti-Sikh riots.
As the din continued, the House was adjourned for the day.