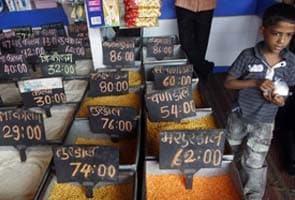 New Delhi:
The National Food Security Bill, passed by the Lok Sabha on August 26, is expected to be taken up by the Rajya Sabha today, a critical step before the government's ambitious pro-poor scheme can become law ahead of polls due in May.
Sources say despite being a minority in the upper house, the government is confident of its numbers, but opposition protests over a plan to check fuel demand by shutting petrol stations at 8 pm may impact proceedings today.
The landmark bill, aimed at providing rice at Rs 3 per kg, wheat at Rs 2 per kg and coarse cereal at Re 1 per kg to almost 800 million Indians, is expected to cost the national exchequer Rs 1.25 lakh crore. India is home to a quarter of the world's hungry poor, according to the United Nations data.
The BJP is expected to use the debate to once again raise its concerns on the measure. The main opposition party had backed the bill in Lok Sabha despite questioning its timing and seeking some amendments, which were rejected.
The bill, championed ardently by Congress president Sonia Gandhi, is being seen as a game-changer for the ruling party as it prepares for the 2014 general elections, now months away.
In a rare speech while opening the debate in Lok Sabha, Mrs Gandhi had urged Parliament to take a "historic step" by passing the bill. She, however, could not vote on it as she was taken ill during the eight-hour debate.
Once passed by the Rajya Sabha, the bill will go to President Pranab Mukherjee for his assent before it becomes a law.