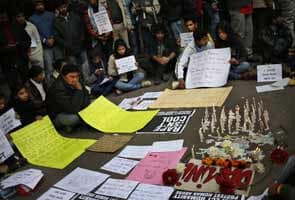 New Delhi:
The first verdict on one of five suspects on trial over December's fatal gang-rape of a student on a Delhi bus will be delivered on August 5.
The juveniles' court in the capital has finished hearing the case of a teenager, aged 17 at the time of the savage assault, which triggered street protests and new laws to punish crimes against women.
The verdict had been deferred from July 11 to July 25 and was again delayed on today by principal magistrate Geetanjli Goel to August 5 today. "The reason is because there is a case pending in the Supreme Court," defence lawyer Rajesh Tiwari told reporters outside the court.
The petition, filed by Janata Party's Dr Subramanian Swamy, in the Supreme Court argues that suspects over 16 years of age accused of serious offenses such as rape and murder should be a tried as adults.
As a juvenile, the suspect faces a maximum sentence of three years in a correctional facility. He has denied any involvement in the crime. He arrived this morning at court with his face covered.
The family of the student who was assaulted with an iron rod before being gang-raped was also present.They have called for the killers of their daughter to be hanged.
The police had arrested six men including the teenager; in March, Ram Singh, the alleged ring-leader and man who usually drove the bus in which the gang-rape took place, was found dead in his jail cell. The police says he committed suicide.
The four other adult suspects are being tried at a fast-track court in South Delhi.