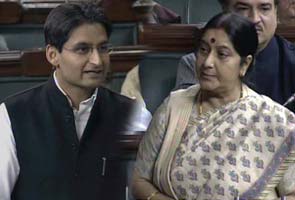 New Delhi:
For two days the Lok Sabha debated the contentious issue of Foreign Direct Investment or FDI in multi-brand retail before voting on it on Wednesday evening. The opposition argued against the policy claiming it was a myth that foreign investment would benefit farmers, consumers and generate employment - the example that was thrown around the most was of potatoes.
Leader of Opposition in Lok Sabha, Sushma Swaraj, had initiated the debate on Tuesday by saying McDonald's and PepsiCo import potatoes into India, while the produce of local farmers goes to waste. "The farmers of Agra produce the highest potatoes, they are forced to throw them on the road but McDonald's does not buy potatoes from them. From where do they get potatoes? Airplanes full of potatoes are imported from abroad," she had said.
Both McDonald's and PepsiCo had refuted those claims in statements released on Tuesday. (
Read McDonald's statement
|
PepsiCo's statement
)
Ms Swaraj's claims, meanwhile, remained the centre of discussion on Wednesday too. Congress' Deepinder Hooda, pointed out that McDonald's sources most of its potatoes from the state of Gujarat. "Once the potatoes are harvested, maybe for my friends from BJP, they become American... If you want 24 inch potatoes for fries come to Ambala," he said in response to Ms Swaraj's allegations that McDonald's doesn't use Indian potatoes since they find them too small for their fries.
"McDonald's came to India and started making aloo tikki - after all Indians would not let go of their palate," said Commerce Minister Anand Sharma.
But it was the veteran Sushma Swaraj who seemingly had the last word. "Deepender said Ambala can give 24-inch potatoes... says he is son of a farmer ... you should at least know the difference between an aloo (potato) and a lauki (gourd)," she said while closing the debate, leaving almost everybody present in the House in splits.
But as the McAloo wars were playing out in Parliament, NDTV travelled to Deesa, a small township in North Gujarat to track the real story.
NDTV saw a new potato crop being irrigated in a farm spread across 20 acres. In less than a month, this crop will be ready. The owner of the farm, Arun Saini, does not have to bother about the fluctuating rates of potatoes, because he is assured of a Rs 8 per kilogram from multi-national food giant McCain foods.
The company provides him the technical knowhow and the expertise to ensure a good yield and more importantly buy his entire stock.
The involvement of the multi-national corporations (MNCs) have resulted in better yield, better production and better profits, say the farmers. Off the 15,000 farmers here, about five per cent are contracted with the MNCs.
Deesa is known as the potato capital of Gujarat, accounting for over 40 per cent of the country's production. MNCs like the McCain and PepsiCo have been in the Gujarat market for the last eight years but its only in the last few years that they have focussed hard on the premium quality potatoes particularly in Deesa.
It is Mccain who supplies these premium potatoes to McDonald's.
A year ago, farmers faced enormous problems after a bumper potato crop - some had to sell their crop even at a measly Rs 1 per kilogram. But those who had agreements with the MNCs had the advantage of selling them at higher previously contracted rates.
"Because of the pre-determined agreement price stability is ensured. Besides, due to new technology, new seeds and constant monitoring, the returns are better," said Arun Saini.
McCain already has 4000 acres of land in Gujarat under contract farming of potatoes and wants to double it by 2014. The MNCs hope to increase their share in the annual 7.5 lakh metric ton potato production in Deesa town.
The entry of the MNCs has also meant specially set up cold storages for the farmers. Even as Parliament debates over potatoes, Deesa's farmers seem to have already voted for FDI.