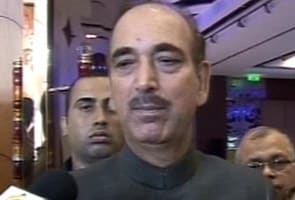 Chennai:
Senior Congress leader Ghulam Nabi Azad's meeting with DMK chief M Karunanidhi to bring the United Progressive Alliance (UPA) ally on board on Foreign Direct Investment (FDI) in multi-brand retail failed to make any headway today.
"Karunanidhi has lots of reservations on FDI in retail. He has sought another round of meeting with UPA allies on the issue," Mr Azad said, emerging from the meeting.
The DMK is opposed to FDI and has threatened to vote against it in Parliament. At a dinner hosted by the Prime Minister for UPA allies last week, the party had suggested that a vote be avoided as its political constituency in Tamil Nadu is vociferously against FDI in retail.
Though FDI in retail is optional, the DMK is worried that favouring it even tacitly would affect its votebank, particularly the Nadar community that comprises traders and vendors.
The DMK is the second-largest party in the UPA after the Congress - it adds 18 Lok Sabha MPs to the government.
The question is will the government agree to a vote in Parliament on its decision to allow FDI in multi-brand retail? Sources have told NDTV that the government might agree to a vote. They say a final decision is likely to be influenced by how the resolution is worded. The government's managers have already begun speaking to different parties to shore up numbers.
The first two days of the Winter Session, which began on November 22, saw no work. The opposition, led by the BJP, has insisted that it will not allow Parliament to function if the government doesn't allow a vote.