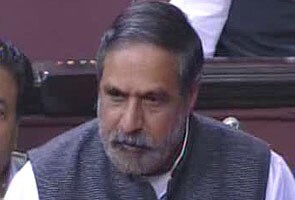 New Delhi:
The debate on whether Foreign Direct Investment (FDI) in multi-brand retail should be allowed was held over two days in the Rajya Sabha and followed by voting on Friday. Rajya Sabha chairman Hamid Ansari declared that, subject to correction, 123 MPs had voted for FDI and 109 against.
Highlights of the Rajya Sabha debate on Day 2:
Anand Sharma, Commerce Minister


I stand here to reply to the questions raised so that the people know the realities and the government's thought process.


Did we consult all the parties involved or not? Such questions need to be answered.


We decided this after 18 months of consultation with various farmers' associations, confederations and states.


Mr Maitreyan, I would like to tell you that your honourable leader should reply to my letter - 19 CMs have written back to me.


(Arun Jaitley reacts - You said you have written to us on December 7. We are the main opposition party, we have consistently opposed. Minister refuses to yield. BJP members up on their feet. Leader of the Opposition Arun Jaitley says, "...the quantum of wastage is a matter of fact. Here there is a situation where there are two different versions... that needs a clarification.")


The NDA has taken executive decisions on allowing FDI in pharmaceuticals or defence sectors. We have not questioned that executive decision. There isn't a single document that suggests the then government initiated a discussion with the stakeholders.


Humari aur Arunji ki umar barabar hain, ab toh shirshashan nahin karte hain kabhi kabhi yoga kar lete hain... Par kal yahaan tarkon ka, WTO ka shirshashan ho gaya.
There has been such a furore over FDI that even my concerned mother, who has no interest in politics, asked my siblings - What has Anand done? Who is he getting from abroad?


(Arun Jaitley responds - If your family is so concerned, please at least listen to them. BJP members continue with their footnotes - Anand Sharma says yeh toka toki band karaiye.)


The opposition is into fear-mongering, saying Indian farmers will be finished. That is far from the truth.


We want to make India the world's workshop.


We do not have to learn about Gandhiji from you. The political discourse here should be within the limits of decency.


If you live in a glasshouse, don't throw stones at us... there may be a few thrown from the treasury benches too. This kind of political discourse is not in favour of the nation, it spoils the atmosphere for investment.


We don't make policies under western influence, our policies are to uphold supreme national interests.

FDI will help farmers: Ram Vilas Paswan of Lok Janshakti Party

There should not be opposition just for the sake of opposing. We are living in the 20th century, but are trying to go back to the 18th century.


When a mall opens, the BJP members are there to inaugurate it.


We were in socialist parties, we have opposed computers saying it will lead to unemployment, but look what happened.
Govt has created myths about FDI, says D Raja of CPI
The present government identifies with multi-nationals and corporate houses but it claims it stands for the aam admi.


Highlights of the debate on Day 1:
Tiruchi Siva, DMK

Explains why party is opposed to FDI but is supporting government
Naresh Agarwal, Samajwadi Party
I am opposed to FDI. I am opposed to WalMart and here to speak for the traders of India.


SP is neither responsible for propping up the government nor for its downfall. We did not implement VAT in Uttar Pradesh, we will not let FDi there.


FDI toh dast-e-katil hain, chote logon ko mar, unke kapde utar...


Don't let another East India Company enter India, Mr Anand Sharma. The first one entered through Kolkata and ruled for 200 years. This one will enter from Delhi and take over.


Your FCI is not procuring rice in Uttar Pradesh - you are unable to provide rural infrastructure.


A good leader listens to his detractors and goes for course correction.


Govt selling India 'wholesale', says Derek O'Brien of Trinamool Congress
FDI no more or less than foreign direct instruction.


The Trinamool Congress is against a policy that looks at India only as a market.


This is a deformed government. It has ceased to perform.


Nowadays the Congress speaks of importing and substitution.


The clause of sourcing 30 per cent from small and medium units is bizarre.


The SMEs will be grown to be captive suppliers, often uncapable of doing business with others.


This country is not yet ready for FDI in multi-brand retail.


The government needs to be sensitive to the Human Development Index. When the government brushes aside HDI for FDI, it breaches a fundamental contract with the people.
NK Singh, Janata Dal (United)

I will speak in Hindi since all speeches are being made in Hindi.


I want to ask the PM - is this issue of FDI the over-arching economic issue that faces India?


And, seeing this divided House, which investor will be enthused in investing in India?


Sitaram Yechury, CPM


We are not against foreign capital. But FDI in retail does not add anything to the productive capacity of the economy.


We have opposed the policy when the NDA was in power and we are still opposed to it.


Out of 1.6 million employed by WalMart, only 1.2% live above the poverty line.


According to a US report, 18 jobs are created by a street vendor. A supermarket needs just four people to handle the same volume of produce. So FDI will not create employment.


We are not able to make our own cold storage facilities and foreign companies will come and do that for us. How will a retail chain become a chain in stand-alone states? So in fact states are not free to choose.


We urge the govt to reconsider the decision. The government isn't telling the real reason - we want to reduce revenue deficit of 70 billion dollars; FDI will erase this deficit.


But at what cost? Unemployment will rise and it will be a policy that will benefit only foreign capital.
Mayawati, Bahujan Samaj Party

We are often accused of being under pressure from the CBI. This has become fashionable for the opposition. Yesterday, the Leader of the Opposition Sushma Swaraj... (protests from BJP members)


House adjourned for 10 minutes. When it reconvenes, Mayawati continues to attack the BJP.


BJP used the CBI to put pressure on me to agree to a pre-poll alliance. We have never given in to communal forces. We have never been afraid of the CBI nor of the Congress and BJP governments at the Centre.


Jo baatein humko padne ko mili hain, woh inke chichorepan, ocheypan aur choteypan ko darshata hain.


(Finally speaks on FDI) We should see that our domestic markets are not hit while allowing FDI.


BSP and most of the people in this country feel that this decision will impact the small traders and manufacturers adversely.


India's economy will also be impacted and people fear we will be economically dependent on foreign companies.


The policy should be tested and the government should not decide in a hurry. We suggest that the Centre try this policy out in some Congress-ruled states and see how the experience is.


The only plus point of this policy is that it will not be forced upon the states. Like the Lok Sabha, we wanted to abstain in the Rajya Sabha... and if the Opposition's motion goes through tomorrow, they will get a political peg and the House will not function. Many important litigations will go on the back-burner.


Considering all these factors, we will vote with the government in the Rajya Sabha on Friday.

FDI will make our children sales boys and sales girls: Arun Jaitley
When you are 18 short of majority, you cannot run the government as you please. You cannot touch the 272 mark in Lok Sabha - you will need support and help.


And whenever you need help, you have to compromise and pay a price.


The country is worried that with regards to investigative agencies and the govt's work practices, we have seen compromises for the past four years. After yesterday's vote, those worries have gone up.


You are a lame duck govt and you are dependent on support, which is costly.


Some people support you from the outside. They vote for you but are opposed to FDI.
But even your own ally NCP doesn't want to implement it immediately in Maharashtra. It wants to discuss the matter in the alliance. As far as the DMK is concerned, they were part of the Bharat Bandh.


When you say you speak on behalf of the people of India, it is a self-assumed authority.
Those who abstain, and by that support you, do not want this in their states.


I challenge Mr Sibal, who spoke for FDI, to get a store opened in his constituency. Elections are round the corner and he'll come to know what the people want.
Because some western countries define reform or economic progress as such, should we accept this?


Can you, as Commerce Minister, tell the US their subsidies to their farmers is not economic reform? (Anand Sharma intervenes - that remains a firm and consistent position of India in WTO)


And to accept such reforms... what is the context with relation to the Indian economy? What is the job structure in India? 51 per cent are self-employed - most in agriculture and next small retail traders. 40 million people are directly employed. Add families to that and the figure of four crore becomes 18-20 crore.


When America had small stores, 19.5 million people were employed in the manufacturing sector. Thirty years later, that has come down to 11.5 million.


We have not had reforms in the manufacturing sector - from this what will emanate?
The domestic retail shops say 90% of their goods are sourced locally.


The first area that will be adversely affected will be manufacturing sector jobs when international structured retail comes in.


(Cites examples of Delhi's furniture market) Open your doors to IKEA and India's carpenter will vanish.


We'll cease to be a manufacturing nation, we will become a nation of traders. We will have stores by Americans, French and British selling Chinese goods and India will be a nation of sales boys and sales girls.


Will structured international retail create additional markets? Markets remain the same... when such a retailer with deep pockets comes to India who can bear losses and have a low intensive employment policy? WalMart's global turnover is 21.5 lakh crore - compare that to India's total retail market of 10.5 lakh crore.


In the month of September, WalMart decided to open its first store in Manhattan. There were protests and the proposal was taken back. There was only one reason - one WalMart will hit 50 small stores, and when that happens Mayor Michael Bloomberg knows he will not be in office.


US, Europe give 400 billion dollars in subsidy to farmers. So if the experiment did not work there, how will it work in India?


The only sector in which there are no middlemen is the sugarcane sector - farmers sell to factories straight. The crop is contracted, but the sugarcane growers will starve if states did not raise the minimum advice price.


Milk cooperatives is the best example of agri-produce retail. In India, for every rupee spent by the consumer, 68 per cent goes to the producer and 32 per cent to the retailer. In England, 34 per cent goes to the producer and 66% to the retailer.


When small middlemen get out of the equation, the super-middleman comes in. These are the WalMarts and Tescos. A fragmented market is better than a consolidated market.


WTO is not a place for charity. That is a bazaar. America and EU have been asking us for FDI in retail, and the government suddenly gave them a unilateral concession.
What was the pressure on you to give this concession free? What was the reason why we did not give it but you did?


You wanted to add a sweetener to the policy - and so you said we leave it to the states. I do not understand how. States can pass municipal laws - FDI is on the Centre's list.


The advantage that Reliance Fresh or Shoppers Stop get, the same advantage all the foreign companies who invest here will get. (Reads from a bilateral trade agreement) I will read this again, you may have heard this but not understood it fully... (Anecdotal quote from Lewis Caroll's Through the Looking Glass)


The major argument is that back-end infrastructure will be strengthened - these stores will not provide irrigation or build roads or provide farmers electricity. They will make cold storage chains, but that is not rocket science alien to India. For that we do not have to impact our food security.


To the argument that there is a lot of wastage and the farmers lose because of this. DIPP, which is under Mr Anand Sharma, says that as per some industry estimates, 25 per cent of fruits and vegetables and 7 per cent of foodgrains are wasted. The Central Institute of Post Harvesting Technology in Punjab has figures even lower than that. Mr Sharad Pawar spoke in Lok Sabha on May 8 and agreed with these figures.


All of us, when in power, make mistakes. The biggest danger politicians fall into is buying their own arguments even when no one outside is buying them. This is the trap your government is falling into.


You can force this policy but India will not accept. I beseech you - please reconsider this policy. My appeal to all friends in the opposition - please, in one voice, reject it.
Those who are in two minds - if you are willing to proclaim, please be willing to strike out.


Ashwani Kumar, Law Minister
I am not the one to say those who oppose this do so because of reasons totally uninformed by politics.


There are very good reasons for our decision on FDI.


Opinions are free, facts are sacred and I want to take the leave of the House to place some facts.


We thought if we were to go ahead with FDI in multi-brand retail, we would be able to enlist significant amount of investment in back-end infrastructure. That is why when we made the policy, we said 50 per cent of the minimum investment of $100 million will be done in such activities.


There are moments in a life of a nation where certain decisions are taken - we did what is right by our conscience.


Because you may be proved wrong at a later point in time, it is no reason not to take bold decisions.


We need a better life, better dignity for people.


We spoke to most farmers' unions, who supported FDI.


30 per cent of all products procured by these chains should be from medium and small scale enterprises - this will exponentially expand the country's production base.


WalMart went to China and the farmers there benefitted. Consumers in India too will benefit from FDI. They will have a wide range of products to choose from.


FDI in retail will benefit over 100 crore people.

Congress doesn't want to learn lessons from other counties: V Maitreyan of AIADMK
Mr Prime Minister, on Dec 6, 2002 Mr Sanghvi wrote to you and you gave him an assurance. Ten years later, we demand that you withdraw FDI in multi-brand retail. Dr Manmohan Singh opposed FDI when he was in opposition; today he is the prime mover. UPA chairperson was also opposed to FDI in retail when UPA-I was in power.


(Quotes CNN) I am quoting a foreign journal because we have a habit of believing foreign journals, not our own.


Govt wants us to believe that global retailers will buy from local suppliers. But that is a lie.


We do not want to learn from someone else's mistake. WalMart is under probe, and India wants to bring the company here. What a shame!


(DMK members protest after being attacked for voting for Govt in Lok Sabha)