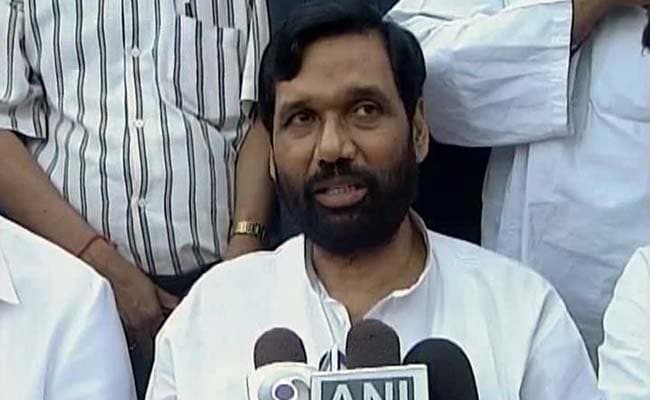 New Delhi:
Union Food Minister and NDA ally Ram Vilas Paswan had to walk a thin line but he has made his disapproval for a proposed new anti-conversion law clear. "Look if someone wants to convert his religion, then Article 25 of the Constitution guarantees that freedom. But, if somebody is being forced to change his religions then there are any number of provisions under the Indian Penal Code to take care of such situations," said Paswan, at a press conference that he was addressing as the chief of the Lok Janashakti Party at his residence.
When he was specifically asked if he supported the demand for a new law, Paswan said, "There are enough provisions under the existing law to take care of forced conversions. And no new law is required. How can I say all conversions are bad? After all Babasaheb Ambedkar had converted from Hinduism to Buddhism."
But the NDA ally was quick to add, "Those who are making these statements on
ghar wapsi
(reconversion) are not in the government or in the BJP. The Prime Minister had expressed his displeasure to BJP MPs against such remarks."
Paswan's assertion that none from the government has ever demanded an anti-conversion law is not quite accurate.
In an interview to NDTV, on Monday, Finance Minister Arun Jaitley argued that, "The correct debate has to be, is conversion permissible? What is the manner in which it has to be done? And that is why when the present government in Parliament clearly stated that you have a model law and this model law was made during Mr Jawaharlal Nehru's period in Madhya Pradesh, and Odisha and other states have accepted it. Let's have a national law to that effect. The law has to be Fundamental Right-compatible."
Earlier too, during the Winter Session of Parliament, when the issue of
ghar wapsi
rocked Rajya Sabha, Venkaiah Naidu had asked the Opposition to support an anti-conversion law.
But, Mr Paswan chose to focus more on the development credentials of the Modi government than the conversion controversy. "Development is the only issue that will take us forward, and I want to make this clear, that every party is talking about allying with the BJP, whether it is the TDP or the PDP in Jammu and Kashmir."