Highlights
At least two stretches of road built between October 17 and December 8
India, China had ended one of their worst border stand-offs in decades
China said Doklam stand-off has put ties under "severe stress"
New Delhi:
New satellite images of the Doklam area to the east of Sikkim reveal that the Chinese have expanded multiple stretches of road in the disputed area, just a short distance from the site where Indian and Chinese soldiers faced off for 70 days earlier this year.
The most prominent new stretch on the road extends one km and is around 4.5 km to the east of the standoff site, which was next to the Indian Army's post at Doka La. A second stretch has been built around 7.3 km to the east of the standoff site and extends northwards for a distance of nearly 1.2 km. There are
additional stretches that have been constructed 10 km from the dispute site near the Sinche La pass, as reported by NDTV in October
.
A comparison of satellite images over the last 13 months shows that the new stretches of road have been built after February 19; at least two extensions are very recent, between October 17 and December 8.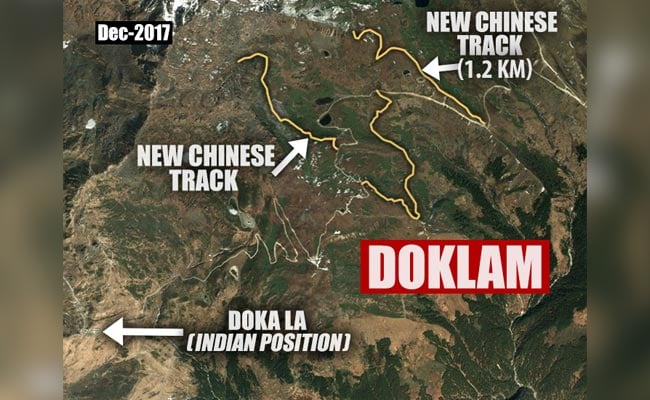 In mid-June, Indian soldiers crossed the Sikkim border to stop the construction of a Chinese road near the "Chicken's Neck," a thin strip that links India to its northeastern states. After more than two months of soldiers from both sides staring down at each other just 150 m apart, the conflict, described as the worst in decades, subsided with both countries accepting that they were withdrawing their troops. Significantly, none of the new tracks constructed by China so far are directed south in the direction of the Chicken's Neck.
Just yesterday, External Affairs Minister Sushma Swaraj held talks with her Chinese counterpart Wang Yi ahead of a Russia, India and China (RIC) Foreign Ministers' meeting. According to the foreign ministry, the meeting gave "fresh momentum to our bilateral relationship."
But in an unusually blunt statement today, the Chinese foreign ministry said the Doklam standoff has put ties under "severe stress" and efforts to foster mutual trust over the last year were "not very satisfactory".
"The matter was finally settled peacefully through diplomatic means, reflecting the maturing of bilateral relations. However, lessons should be learned and should be avoided again," said minister Wang Yi with the hint of a warning.
There are reports that China has positioned in the Doklam region more than 1,000 soldiers who are likely to remain in the area throughout winter for the first time. The Indian Army is already well-positioned in the region with several units in Sikkim facing the Chinese in Doklam.