New Delhi:
Highlights
New account of Indian attack on Pak's Murid airbase during 1971 war
Former pilot recalls raid, believed to be Air Force's greatest offensive
Defence Ministry's commissioned history did not include incident
On December 8, 1971, four young Indian fighter pilots scything their way through enemy airspace were greeted by a sight almost too good to be true - several Pakistan Air Force (PAF) transports and fighter jets were out in the open at Murid airbase which they had been tasked to attack. The PAF had been caught off-guard and Squadron Leader RN Bharadwaj, Flying Officer VK Heble, Flying Officer BC Karambaya and Flight Lieutenant AL Deoskar flying British-made Hunters of the IAF's 20 Squadron pressed home their attack on the airbase located 120 kilometres inside Pakistan.

"We were a 4 aircraft formation. Aircraft 1 and 2 went ahead on schedule. 3 and 4 were asked to delay their attack by a minute and a half. There was lot of ack ack fire in the sky. We broke radio silence and the lead aircraft told me 'I just clobbered a 4 engine aircraft in the pen" says BC Karambaya, who won a Vir Chakra in 1971 and retired several years later as a Wing Commander. "There was black ack ack all round. I saw what I thought were MiG-19s [infact, the Chinese F-6, a copy of the Russian MiG-19] in a blast pen. Deoskar spotted another. I fired a small burst - a refuelling bowser caught fire. I kept on firing and was at a height of only 300 feet and the aircraft started rocking - I had clearly been hit by ack ack fire. I said, 'I am ejecting.' As I was about to pull the handle [to eject], I realised I didn't want to become a prisoner of war. I kept flying low and then I saw the whole front right part of the wing and fuel tanks had been blown away but somehow the aircraft kept flying. There was very violent rocking. I just maintained my height and crossed the Indus and Sutlej into Indian territory."

What Karambaya or the other pilots in the attack on Murid didn't know at the time was that they had just participated in perhaps the greatest offensive counter-air operation in the history of the Indian Air Force, the success of which has been highlighted in a new book 47 years after the 1971 war.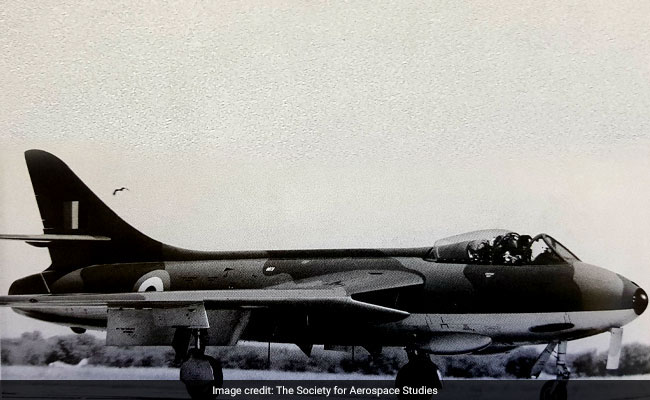 Never have more enemy jets been destroyed in a single IAF raid on a Pakistani airbase.

In his new book, "In The Ring and On Its Feet - Pakistan Air Force in the 1971 Indo-Pak war," Pakistan's premier military aviation historian Air Commodore M Kaiser Tufail (retd.) has now stated that IAF Hunters belonging to 20 Squadron destroyed 5 PAF F-86 Sabres on the ground in Murid. The F-86 wasn't just any fighter - the Sabre was the premier fighter of the Pakistan Air Force and the single biggest challenge for the Indian Air Force in air battles in both the 1965 and 1971 wars, a jet that shot down several IAF fighters in air-to-air combat and inflicted heavy damage to ground targets in Indian territory. Tufail, who lists the identifying tail numbers of the Sabres which were destroyed (1095, 3839, 3848, 3851 and 4018) goes on to state "26% of PAF's losses were entirely avoidable as slipshod dispersal led to the loss of five aircraft on the ground in Murid in a single IAF raid; two more were lost on the ground in other raids." In fact, Murid was particularly vulnerable to air attacks.

According to Tufail, "Intruders from Pathankot could nestle against the Parmandal Range, before swinging in from Naushahra-Rajauri side. To counter this susceptibility, F-86Fs from No 15 Squadron were providing constant Combat Air Patrols since first light on December 4." As it turned out, the December 8 IAF attack decimated approximately 30 per cent of the strength of this same 15 Squadron of the Pakistan Air Force.

Ironically, the official Ministry of Defence commissioned history of the Indian Air Force, published after the 1971 war, makes no claim on the destruction of the Sabres. The only reference to the December 8 mission is attributed to a book written by a former Pakistan Army Major General and says, "In two counter-air missions by the IAF, five aircraft were destroyed on the ground at Murid and Chaklala."


Neither has there been an attempt so far at revising the official IAF record of the 1971 war despite the fact that details of the Hunter attack on Murid were first published by the Pakistan Air Force in 1988 in the book, 'The Story of the Pakistan Air Force: A Saga of Courage and Honour' which says, "On the ground, the PAF's biggest single loss occurred at Murid on 8 December when a Hunter attacked a lone F-86 which was thoughtlessly parked, after being refuelled and rearmed, next to a cluster of 4 covered pens; within these pens stood 4 F-86s fully armed with bombs for the next mission. The base paid the price for this inexcusable lapse by losing all 5 aircraft when the exploding bombs of the exposed Sabre triggered detonations in the other four."
What is also clear is that the IAF pilots on that December 8 mission never knew about the extent of their success. In fact, they didn't even know what they hit. The 20 Squadron history, 'When Lightnings Strike - No.20 Squadron, Indian Air Force 1956-2006' has several details of the mission. "The second strike on 8 December was the third Lightning visit to Murid. Led by Ravi and Heble, Deoskar and Karambaya. They reached Murid just as a PAF mission had landed back. They had a great time like children in a toyshop and knocked out a transport aircraft, vehicles and MiG-19s in pens. Karambaya had to reluctantly return from the party owing to damage sustained on his drop tank."
The remarkable Indian Air Force attack in Murid during the 1971 war with Pakistan is a mostly forgotten chapter in the history of the Indian Air Force, due, in no small part, to the poor quality of video recordings of the attacks filmed from the gun-cameras of some of the jets. Claims made by pilots could often never be verified and in cases, the pilots were honoured with gallantry medals for other operations that they were involved in. But Murid was different. The Pakistan Air Force has twice stated the impact of the raid.
According to India's foremost aviation historian Pushpinder Singh Chopra, "The IAF knocked out more jets on the ground in Murid than they have been able to do in any other offensive counter-air operation. Given the details in Tufail's new book, there is an urgent need to update our military records and give credit to the men who were part of this remarkable mission on December 8, 1971."
Follow NDTV for latest election news and live coverage of assembly elections 2019 in Maharashtra and Haryana.
Subscribe to our YouTube channel, like us on Facebook or follow us on Twitter and Instagram for latest news and live news updates.