Allahabad:
"It was a compartment full of happy faces. There were many who were talking about the weddings they were to attend, at a relative's, in the village, narrating stories, sharing laughs, families travelling together," remembers 43-year-old Santosh Upadhyay of the seven-odd hours he spent in the S2 bogie of the Indore-Patna Express train that derailed near Kanpur in the early hours of Sunday, killing 150.
"S2 was full of people, five-six people sitting on each seat, it was definitely filled over its capacity," he says.
Santosh Upadhyay boarded the train in Ujjain at 3 pm on Saturday and was on his way to Kanpur. In Bhopal, a woman who boarded the train, requested him to swap seats as she wanted to travel with a friend in S2. Mr Upadhyay agreed and moved to S5 around 10:30 pm.
"It was a little after 3 am when I heard a loud sound as the train shook violently. It seemed like there were bombs exploding. Many were fast asleep. It probably lasted a minute or so," says Mr Upadhyay, recollecting the chaos when the train derailed.
"I escaped through the emergency window. There were screams all around. For close to five minutes, some of us who had escaped, tried to comfort ourselves by holding each other's hands, unknown faces just looking for some solace, some reassurance. We were all trembling, no one said a word," he added.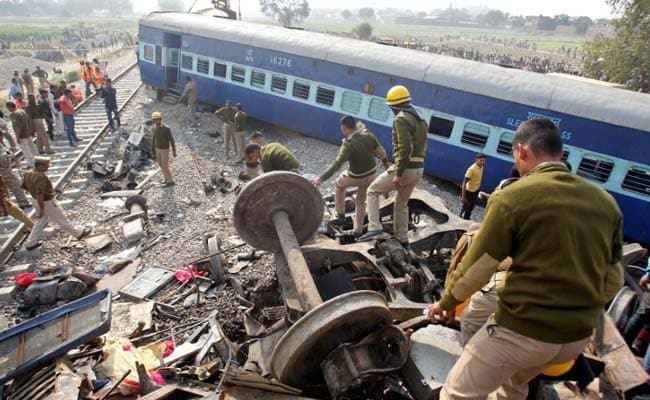 It took him a good ten minutes to finally convince himself that what he was seeing around him was real. And then he remembered Biren Singh, an elderly gentleman in S2, who he had befriended when they both boarded at Ujjain. "His daughters-in-law came to see him off at the station. He was soft spoken, but chatty. He shared his life's story with me in those hours, talking about his five sons, and his grandchildren who were eager to see him."
Mr Upadhyay made his way to the S2 coach. On the way he saw one bogie split into two. There were bodies strewn all over. "I only identified him with what he was wearing," said Mr Upadhyay, unable to hide his tears. "He didn't need to, but late at night Biren ji came to check on me in S5, just to see if I was comfortable there. I kept telling him to sleep on my berth, instead of the crowded S2. I wish I had managed to convince him."
The woman who swapped seats with him too is dead.
"My time wasn't up yet," he says staring into a distance. "I'm just grateful to be alive."
It's been two nights since he has slept. The images, the mangled bodies, the screams, the faces, familiar and unfamiliar, and the conversations he heard are now haunting his waking hours.