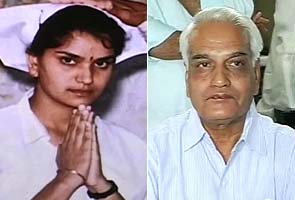 Jaipur:
Former Rajasthan Minister Mahipal Maderna is being questioned by the Central Bureau of Investigation over his alleged involvement in the sensational Bhanwari Devi case. Sources said that after some hours of questioning, the ex-minister had confessed to having had a relationship with the 36-year-old midwife and nurse, who has been missing since September.
Mr Maderna, a key accused in the case, had so far denied that he had a relationship with Bhanwari Devi. But, sources said, when confronted by the CBI with statements made by the missing nurse's friends, he reportedly accepted that the two had had an affair. A missing CD allegedly shows the minister caught in a compromising position with Bhanwari Devi, and her friends who have turned witnesses, claim they have seen him on it.
Mr Maderna is being questioned at the Circuit House in Jodhpur, where the CBI team investigating the case is camping. The agency has to give an update of its probe to the Rajasthan High Court tomorrow. Questioning has been stopped for the day, as Mr Maderna complained that he was feeling ill due to high blood pressure, and will continue tomorrow. The sources said that the former minister had assured the CBI of full cooperation and that he had given "valuable information.''
The former Water Resources Minister's involvement in the case has caused huge embarrassment for Chief Minister Ashok Gehlot. With his government under fire for Bhanwari Devi's disappearance, Mr Gehlot had sacked Mr Maderna from his Cabinet on October 16. The 36-year-old auxiliary nurse midwife went missing from Bilada near Jodhpur on September 1. Her husband, Amarchand Nat, had alleged that she was abducted at the behest of Mr Maderna and his associates.
Mr Maderna had refuted all the charges levelled against him. But the Rajasthan High Court made some sharp observations over the shoddy probe into the case and a case of rape and murder was registered against him.
The CBI took over the case last month and is hoping for a breakthrough after questioning Mr Maderna. It had questioned the kin of a Rajasthan Congress MLA and a suspended policeman earlier this week. Three persons who had allegedly lured the nurse out of the house have been arrested. They have reportedly told the CBI that they handed Bhanwari Devi over to another gang.
The agency had recently seized a camcorder and a computer but data had been erased from them, CBI sources said. Officials suspect that the camera and computer might have been used to film and store footage which may have evidence relating to Bhanwari Devi's disappearance.
A few audio clips of purported conversation of Bhanwari Devi with Sohanlal, one of the accused, and Indira Devi, had also come to light, the sources said.
(With PTI inputs)