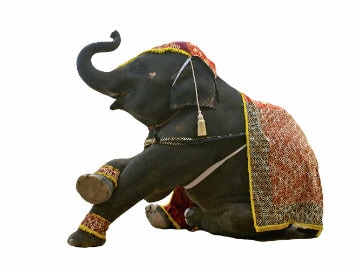 New Delhi:
Elephants are still "tortured" in circuses despite a decision by Animal Welfare Board of India last year to ban their registration for performing in such shows, an animal rights group has alleged.
"AWBI, a statutory body under the Ministry of Environment and Forests, decided to ban the registration following reports of rampant use of weapons, including iron hooks and sticks with protruding nails to make the elephants perform.
"Though, legal show-cause notices were issued to the defaulter circuses then, it's been a year, and neither the elephants being subjected to torture in these circuses have been seized and sent to rehabilitation centres nor have they been deregistered for performances," Poorva Joshipura, CEO, People for the Ethical Treatment of Animals (PETA) India, claimed.
Reacting to the allegations, AWBI asserted it is in the process of deregistering existing elephants at circuses and no new elephant has been registered in the past six months.
Following a nine-month-long investigation in circuses across the country conducted by PETA and NGO Animal Rahat which was authorised by AWBI, the board had in November 2013 decided to ban registration of elephants for performance in view of huge cruelties and abuse suffered by them.
The investigation, conducted in 16 circuses across the country, had revealed that animals used in circuses were subjected to chronic confinement, physical abuse, and psychological torment.
"While the Central Zoo Authority (CZA) in November 2009 decreed that elephants may no longer be exhibited by zoos and circuses, the decree was not applicable against the circuses while the AWBI continued to authorise elephant use. But, now that it was already decided, we have urged both CZA and animal board to enforce it," Poorva said.
The MoEF had also directed the AWBI in July to take necessary steps to deregister the animals used in circuses and also make arrangements for rehabilitation of deregistered animals.
"AWBI should also not register any new animal," the official communication sent by MoEF to the board said.
"We are in process of deregistering the elephants. We had issued show cause notices to all the defaulters but only one of the circus has responded to the notice so far. Meanwhile, we also a re-inspection conducted through an independent agency to be extremely sure and the rehabilitation process will begin soon, " AWBI's Chairman R M Kharb said.
"We are on our toes to save the elephants from the torture they are subjected to at circuses. We have also requested the ministry for a similar ban for all the animals," Kharb added.
PETA has also called upon the AWBI, the CZA and the MoEF to permit performances by circuses only with willing human performers and immediately ban the use of all animals in circuses, following the lead of Bolivia, Bosnia and Herzegovina, Cyprus and Greece.
"Circuses are a relic of a bygone age which have become even more unacceptable as our knowledge and understanding of the animal kingdom has grown.
"Children naturally love animals and would never condone the circus if they knew that circuses keep elephants nearly constantly chained, jab them with iron hooks, whip horses, crudely cut the wings of birds, and force animals to do tricks that are unnatural and would be frightening and confusing for them," Poorva said.
Use of unregistered animals, forcing them to perform unregistered tricks, physical abuse of animals, erroneous certificates of health for travel, lack of permanent veterinarians and transport of unfit and pregnant animals, were a few of the anomalies noted in the report titled 'Animals in Indian circuses: A PETA investigative report'.