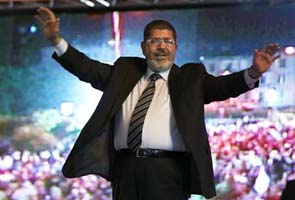 New Delhi:
Egypt's President Mohamed Morsi will visit India from March 18 to 21 as the head of a high-level delegation of ministers and business leaders, at a time when trade between the two sides has witnessed a record 30 percent jump.
The new Egyptian government headed by Mr Morsi is "looking at a much deeper engagement with India, looking to diversify their relationship, and they genuinely look at India as a country from which they can access our knowledge, experience and expertise in information technology, micro-finance and small and medium enterprises," said Indian ambassador to Egypt Navdeep Suri.
Mr Morsi had voiced keenness to learn from India about capacity building, so that he can address the problem of unemployment, and also to learn from India's pluralism. "This is an important issue that Egypt is looking at," said Rajeev Shahare, Joint Secretary, West Asia and North Africa (WANA).
Egypt has also requested India to set up a centre of excellence in Information Technology at the famous Al Azhar University in Cairo. "The request has come from them, to add to their curriculum," said the ambassador. Egypt is also seeking India's help in launching a nano satellite.
India and Egypt will hold the fourth Joint Defence Committee meeting next month.
Economic engagement between the two sides has been growing despite the political tumult in Egypt.
Bilateral trade has notched up a "record increase" of 30 percent to $4.5 billion from $3.2 billion earlier. Calculated in the Indian fiscal year terms, it would be even higher at $5.2 billion, said an official.
Around 50 Indian companies have a presence in Egypt including Aditya Birla, Kirloskar and Dabur. Indian investment in Egypt is $2.5 billion. India is also the seventh largest trading partner of Egypt.
The Egyptian business delegation will hold meetings with India's three apex business bodies - FICCI, CII and ASSOCHAM, with FICCI playing a lead role.