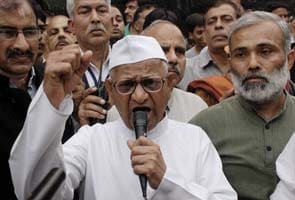 Dehradun/Roorkee:
Anti-corruption crusader Anna Hazare today threatened to return the Padma Bhushan conferred upon him, accusing the UPA of betraying the nation on the issue of Lokpal.
"This is an unpardonable betrayal of the nation...I don't want any awards from a government which does not act against corruption," Anna said, addressing people at the parade ground in Dehradun on the conclusion of the first phase of his Jantantrik yatra.
He said despite two years after the resolution on Lokpal was passed in Parliament the anti-corruption institution was still an elusive dream.
Anna asked the people to think of not only changing a government while voting in 2014 Lok Sabha polls but also changing the system.
"People should rise above self-centred thinking and expand the ambit of their thought to include the larger interest of the nation," he said.
Citing his own example, he said he had taken a pledge at the age of 26 to serve the nation and society and has lived up to that pledge to this day.
Exhorting people to work for the nation and society with an unflinching sense of commitment, he asked them to be alert and fight the system to build the society of their dreams.
Anna also announced that the next phase of the Jantantrik yatra will begin on May 5 saying, "We will keep on fighting till the creation of corruption free society."
Earlier, addressing a public meeting at Roorkee as his yatra entered Uttarakhand, Anna reminded people that they held the key to change.
"Every five years we think of a change of government but this time round (2014 general elections) we have to think of changing the system," he told a public meeting at Subhash Nagar ground in Roorkee.
Accompanied by former Army Chief General VK Singh, Anna asked people to understand the value of their votes and take a vow not to elect corrupt people responsible for bringing the country to such a sorry pass when graft had hit an all-time high.
"You must take a pledge that this time you will not vote for corrupt people, plunderers and those who cannot curb rising prices," the social activist said.