Cast:
Huma Qureshi, Saqib Saleem, Lisa Ray, Adil Hussain, Madalina Bellariu Ion
Directors:
Prawaal Raman, Leena Tandon
Rating:
2 stars (out of 5)
Oh no, yet another horror movie? Banish your fears. While
Dobaara: See Your Evil
isn't half as messy as all those grisly ghosts-and-ghouls flicks that Bollywood foists upon us, it isn't a spine-chiller either.
The official
remake of 2013's Oculus
- it's so official that the writer-director of the original American film, Mike Flanagan, serves as executive producer here - isn't a slavish, exploitative copy. It assumes a life of its own. If only director Prawaal Raman had injected more muscle into the intriguing tale of a spooky, havoc-wreaking antique mirror, it would have been a cracker of a film. It isn't and that's a shame.
In generating its stray scary moments,
Dobaara
does not resort to the crass cocktail of sex, sleaze and gore that marks the standard, schlocky fare that Hindi cinema's paranoia-peddlers churn out. This immediately places this agreeable rehash in a league all its own. The killer in this film is a non-living object. Yet, the atmosphere of dread that it induces could put the fear of a 'flesh-and-blood' nether-world slasher in the shade.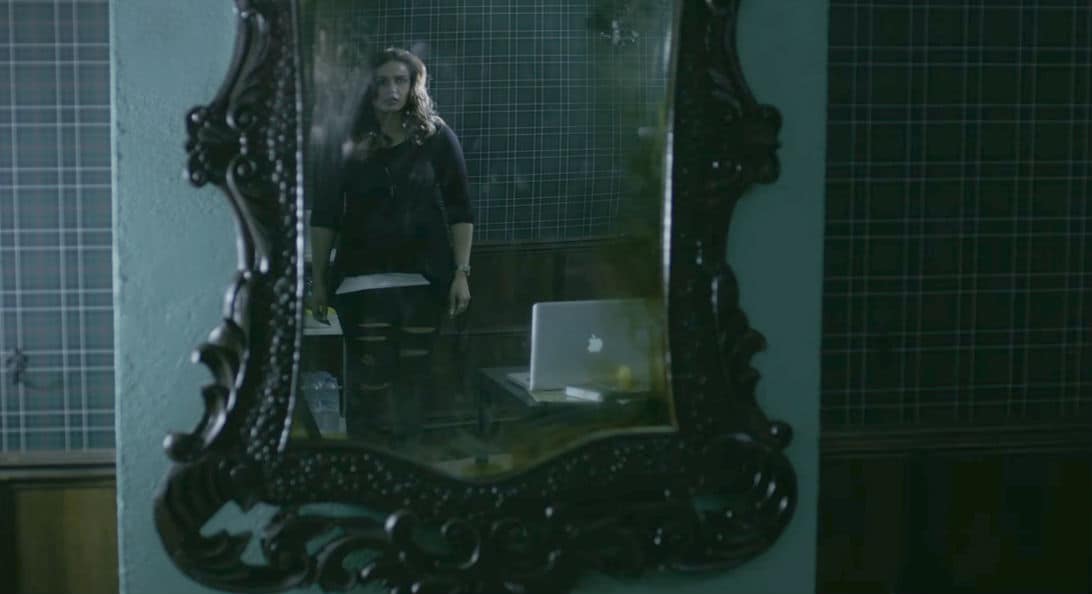 While it does have lurking apparitions, floating shadows and disorienting sound effects in its bag of tricks,
Dobaara does not count entirely upon delivering visceral shocks
and making you jump off your seats. For the most part, it relies on working its way into your softened-up consciousness to a point where the set-up of two individuals caught in a single room with a malevolent mirror capable of unleashing unspeakable harm is enough to ratchet up the fear quotient. Sadly, it doesn't go the whole hog.
Apart from being erratic in its pacing - the film takes quite a while to warm up and begin to deliver the expected punches - it operates primarily on what is essentially a hackneyed haunted-house formula. But, thanks to flashes of originality in the screenplay, the final stretch of the film - about 30 minutes or so - is both intriguing and insidious.
Two adult siblings, Natasha Merchant (Huma Qureshi) and Kabir Merchant (Saqib Saleem), troubled by memories of the violent death of their parents eleven years ago, reunite to investigate the mystery of the menacing mirror that unleashed the evil spirits that destroyed their family.
Obviously, the Merchant duo's plan is fraught with great risk. The challenges that the mirror throws at them threaten to not only drive a wedge between the two but also render them mentally wonky. The subsequent uninterrupted flow of plot twists and swerves serves to ensure that the narrative does not sink into a predictable pattern.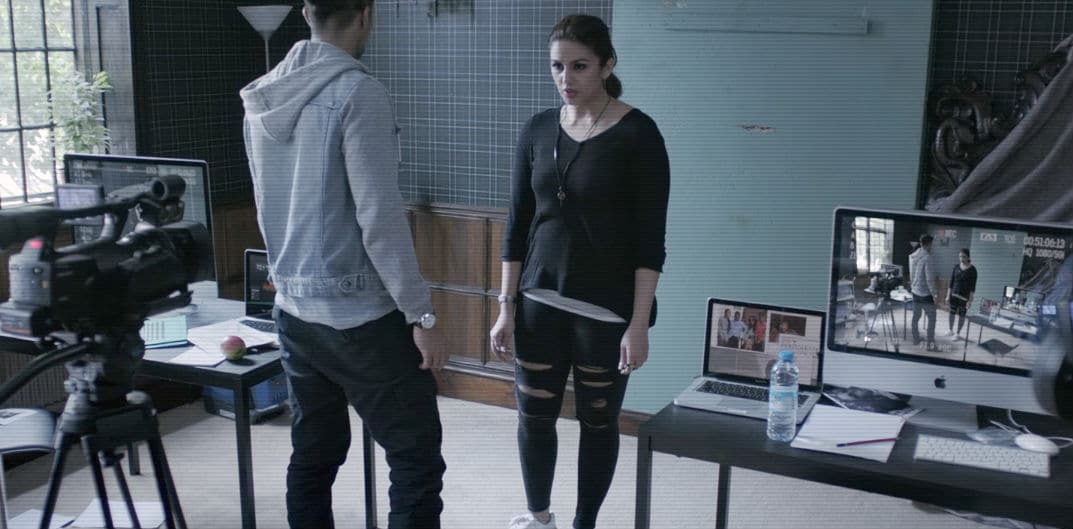 Kabir and Natasha's misfortunes are tied to the tragic fate that befell Papa Merchant, Alex (Adil Hussain), a London sculptor, and his wife, Lisa (Lisa Ray). He is unhinged by the mirror that he buys to decorate his cramped working space. To worsen matters, the man falls under the spell of a buxom seductress Ana (Romanian actress Madalina Bellariu Ion). His manic indiscretions set off a chain of disastrous events that tear the family apart.
Dobaara
flits, often awkwardly, between the horrific events of over a decade back and their unsettling upshot in the present. The patricidal Kabir, locked away in a correctional home all these years, returns 'home' after therapy and, at the prodding of his elder sister, who now works in an auction house, decides to confront the past no matter what the cost.
Watch the trailer of
Dobaara: See Your Evil
Natasha acquires the mirror in which the spirit of a woman accused of witchcraft and burnt at the stake in Tudor England is trapped. She takes it back to old family villa with the aim of proving her dad's innocence. Camcorders are set up to capture everything that transpires in the room. What ensues are creepy situations that not only mess with the minds of the two siblings but also repeatedly throw the audience off the trail. Is it the mirror that is up to its terrifying tricks again or is the brother-sister pair playing games with us and each other?
Dobaara: See Your Evil
uses the tried and tested tropes of horror films and mixes them with the conventions of a psychological chamber drama. The resultant concoction is delivered with stylistic panache but without passion. Bollywood scare-fests tend to be more laughable than frightening. This one isn't. But it is frequently too baffling for comfort.
Teaming up with real-life sibling Saqib Saleem, Huma Qureshi, notwithstanding the improbably coiffured look that she wears through her supernatural ordeal, is never less than convincing as the petrified woman up against eerie elements she wants to tame. Saqib, too, is effective, if not consistent, as the boy who has been through hell.
But then there is the ever-reliable Adil Hussain to ward off any curse of mediocrity that might be hovering over the film. He not only makes
Dobaara: See Your Evil
highly watchable when he is on the screen, he actually liberates much of the film from its horror film moorings. He gets the pitch of the performance just right, capturing the character's transformation from a loving family man to a destructive, possessed dad with shattering effect.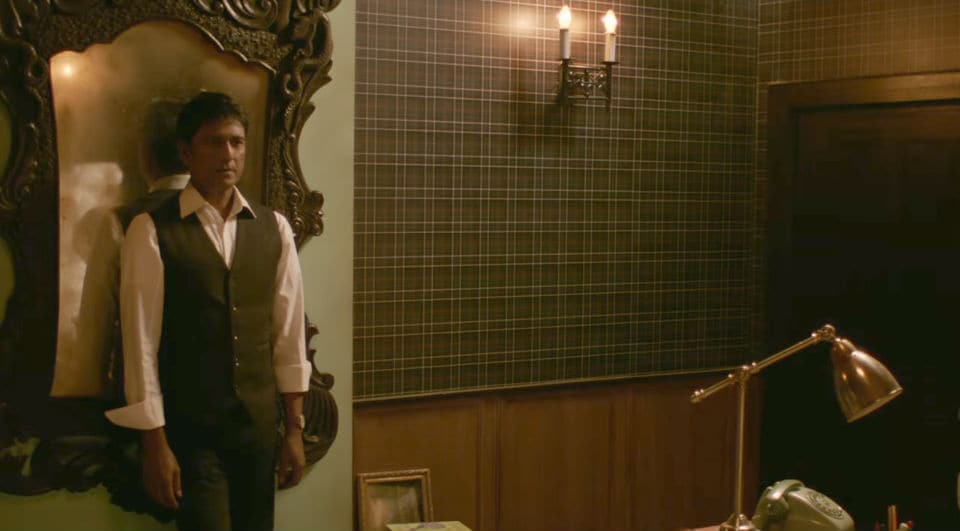 For fans of scary movies,
Dobaara: See Your Evil
might just pass muster. For the rest of us, the portentous game of shadows, silhouettes and sly suggestions, which alternates between the teasing and the terrifying, is too much superficial style for a film so slight.