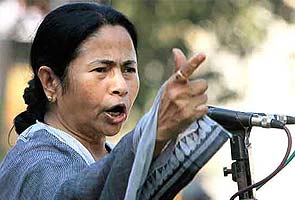 Kolkata:
Key UPA ally and Trinamool Congress chief Mamata Banerjee opposed diesel price hike and curb on purchase of subsidised cooking gas cylinders and has demanded an immediate rollback.
"We are unhappy and astonished that in spite of the formation of the UPA coordination committee after a long time, such a decision was taken without consulting us," the West Bengal chief minister said.
Trinamool sources said Ms Banerjee would hit the streets on Saturday protesting the diesel price hike and restriction on buying subsidized LPG cylinders.
"The price of diesel has been increased by Rs 5 without any discussion. LPG has been limited to six cylinders annually, where four to five cylinders are required each month. Small households require three cylinders," she said.
"After withdrawal of the subsidy if one has to buy a cylinder for Rs 1,400, then how will one subsist?" she said. "The government will give subsidy on six cylinders per year for a family and they have to buy the rest at Rs 1400 per cylinder. In that case, we have to think whether we will remain in this government," Ms Banerjee said.
Trinamool Congress was in the government considering the people's interest, she said adding "there is no fault from our side. Since we had spoken of a stable government before the Lok Sabha elections, we are with this government.
"But that does not mean that they can take unilateral decisions regularly while state leaders continue slander campaigns against us. We will not accept this," she said.
"If people do not mind, I will be most happy to withdraw support (to the UPA). If I withdraw support then other parties will provide support to them. And, then ask why we left the UPA which led to its collapse. People had misunderstood us when we had withdrawn support earlier. Therefore, we are having a detailed discussion in the party on these issues," the Chief Minister said.
"Withdraw the decision on diesel price hike and it will have to continue to give subsidy on LPG cylinders and people will buy it at the same rate as earlier," she said. "Trinamool Congress is with the people. Whatever strong decision will have to be taken we will take. We will not
compromise," she said.