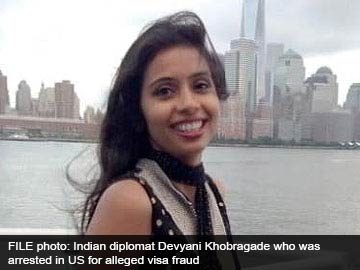 New Delhi:
External Affairs Minister Salman Khurshid today strongly criticised Preet Bharara, US attorney for the Southern District of New York, for this comments on diplomat Devyani Khobragade's arrest, saying he should not be taken seriously and that what the US has done was unacceptable. (
Watch: No need to take Preet Bharara seriously, Salman Khurshid tells NDTV
)
While
Secretary of State John Kerry tried to calm tempers
in his phone call to India's national Security Advisor Shivshankar Menon last night, Mr Bharara's statement today ruffled more than a few feathers in South Block.
"Ms Khobragade was accorded courtesies well beyond what other defendants are accorded. The agents let her make calls from their car and even brought her coffee and offered to get her food," he said. (
Read: 'Agents brought her coffee', says Preet Bharara on diplomat's arrest
)
Admitting that the domestic help Sangeeta Richard's family was flown out by the US a few days ago, Mr Bharara said, "some focus should be put on why it was necessary to evacuate the family". He said "a legal process was started in India against the victim, attempting to silence her, and attempts were made to compel her to return to India" and went on to say "one wonders why there is so much outrage about the alleged treatment of the Indian national accused of perpetrating these acts, but precious little outrage about the alleged treatment of the Indian victim and her spouse?" (
Read: full text of Preet Bharara's statement
)
An angry India said the only victim here is the diplomat. (
Devyani Khobragade the only victim in this case: India rebuts Preet Bharara
)
In a statement the MEA said, "There were no courtesies in the treatment that was meted out to Diplomat. What right does a foreign government has to "evacuate" Indian citizens from India while cases are pending against them in the legal system. This is one more attempt at post facto rationalization of action which should never have been taken in the first place." (
Read: Full text of India's statement
)
Despite the stand-off with Mr Bharara, government sources have told NDTV that the 40-minute phone call by US Under Secretary Wendy Sherman to Foreign Secretary Sujatha Singh, and Mr Kerry's call to the NSA, both set the tone for a possible way out. Sources say they were told that what happened with Ms Khobragade was wrong and are hoping for a positive outcome. (
Row over diplomat's arrest: 10 latest developments
)
India has informed the US that Ms Khobragade is now working with the Permanent Mission to the United Nations, which means she is now waiting for a new identity card from the State Department which will give her full diplomatic immunity.
Sources say that will exempt her from any further action or proceedings even if the case were to go on. However, the Indian government is pushing hard for the charges to be dropped altogether.