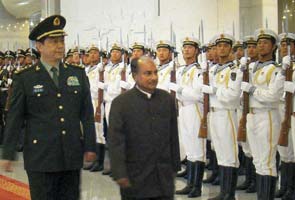 Beijing:
China on Monday said Defence Minister AK Antony's visit has given both countries an opportunity to enhance their "strategic cooperative partnership" and jointly maintain peace and tranquillity in the border areas through increased military-to-military coordination.
China paid "high attention" to Mr Antony's visit as he held talks with Premier Li Keqiang, Defence Minister Gen Cheng Wanquang and State Councillor and Special Representative on India-China border talks, Yang Jiechi, Chinese Foreign Ministry said.
Mr Antony, who is the first Indian Defence Minister to visit China in seven years, concluded his four day visit on Sunday.
"The two sides exchanged views on defence issues and reiterated that they will enhance defence exchanges with the purpose of maintaining peace and tranquillity of the border areas and create durable conditions for the China and India strategic cooperative partnership,"
Foreign Ministry spokesperson Hua Chuying told a media briefing.
Ms Hua said, "We hope that in future the two sides will take Antony's visit as an opportunity to enhance military-to-military interaction, jointly maintain peace and tranquillity in the border areas and create favourable environment and conditions for the enhancement China and India strategic and cooperative partnership."
"We emphasise that the two militaries enhance coordination and cooperation" and direct the relevant departments to enhance work in this regard, she said answering a question on the outcome of Mr Antony's visit.
The stress on the need for maintaining peace along the Line of Actual Control (LAC) comes against the backdrop of the Depsang valley incursion incident in May when the Chinese troops had pitched their tents 19 kms inside Indian territory for over three weeks.
The two sides believe that cooperation in the border areas will be of great importance for peace and tranquillity in these areas, Ms Hua said.
The two sides also agreed to hold talks on China India Border Defence Cooperation Agreement (BDCA), she said.
Mr Antony, after his talks, had said that the two sides moved forward on the BDCA which is expected to be finalised soon.
According to officials, BDCA proposed by China aims to set up mechanisms which will provide for consultations and communication between both the countries to improve management of border and help avert the incident like Depsang valley in April during which Chinese troops pitched their tents causing tensions between the two countries.