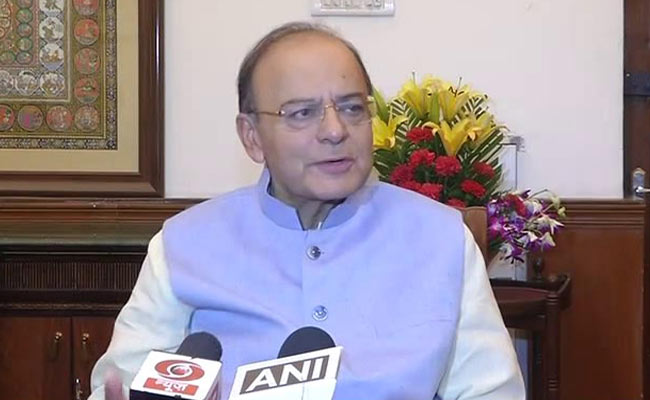 New Delhi:
Union Minister Arun Jaitley today accused Chief Minister Arvind Kejriwal in the Delhi High Court of "creating a false controversy in the media" with regard to allegations of irregularities in DDCA, leading a Congress MP to raise it in Parliament.
Testifying before Joint Registrar Pankaj Gupta in the civil defamation suit lodged against Mr Kejriwal and five AAP leaders, Mr Jaitely imputed motive on them saying the issue was raised due to the action taken by an investigating agency against a senior officer of the Delhi Secretariat.
In response to a query, raised by Mr Kejriwal's counsel, the senior BJP leader said that Congress MP K C Venugopal, being a "political opponent", raised the issue in Parliament and "I immediately rebutted the same".
"The defendants (Kejriwal and others) on account of their deliberate falsehood succeeded in creating a false controversy in the media against me. Consequently, the issue was raised in Lok Sabha (December 21, 2015) by Mr K C Venugopal, a political opponent, and I immediately rebutted the same" he said.
Mr Jaitely said he believed that the allegations levelled by the Congress MP in Parliament were not "independent" in nature as the contents were "similar" as alleged by AAP leaders.
"I do believe so because these were raised two years after I had left the DDCA by the defendants (Kejriwal and five other AAP leaders) in order to deflect attention from their own wrong-doings," he said, adding "the ripples of the media campaign which followed can be always felt in a House in a parliamentary democracy".
The response came when senior counsel Anoop George Chaudhari and advocate Anupam Srivastav, appearing for Mr Kejriwal, put to Mr Jaitley whether he had any evidence to indicate that the Congress MP's allegations in Parliament were not independent ones.
"From 1999 till date, I have been a part of the House either in government or in opposition. Neither Venugopal, nor any other member had ever raised this issue against me. It was only raised when the defendants raised it for the first time in December 2015 subsequent to the action of an investigating agency against an officer in Delhi Secretariat," he testified.
He said that the content of Congress MP's statement was similar to what Mr Kejriwal and his party leaders had alleged.
"I am therefore presuming in the normal course of events a connect between the two," Mr Jaitley, who holds twin portfolios of Finance and Defence, said.
Mr Jaitley, 64, was present in the court for the sixth round of cross-examination in a civil defamation suit of Rs 10 crore filed by him against Mr Kejriwal and five AAP leaders -- Raghav Chadha, Kumar Vishwas, Ashutosh, Sanjay Singh and Deepak Bajpai -- for accusing him of financial irregularities in the Delhi and District Cricket Association (DDCA) of which he was the President from 1999 to 2013. The allegations were denied by the union minister.
During the cross-examination which continued for two hours, Mr Kejriwal's counsel asked Mr Jaitley whether it was correct that the DDCA held a press conference on December 12, 2015 wherein they admitted that there were financial irregularities in DDCA during the period 1999 to 2013.
The union minister replied that he has no knowledge of any such statement made by DDCA.
29 questions were put to Mr Jaitley by Mr Kejriwal's lawyer including whether Mr Venugopal was influenced by the statements of other Congress leaders Ghulam Nabi Azad and Mallikarjun Kharge.
Mr Azad and Mr Kharge had also levelled allegations against the union minister of wrong doing vis-a-vis DDCA in their press conference held on December 16, 2015.
The BJP leader replied in negative and said that even the statement of "these Congress leaders in the press conference was subsequent to defendants (alleged) defamatory comments".
He further testified "I have always maintained that I have never committed a single impropriety or a wrong doing in the affairs of DDCA.
"Obviously, there could be no evidence or material against me, let alone of the kind the defendants had stated in their defamatory imputations," he added.
His cross-examination remained inconclusive and would resume on October 30 and 31.
Mr Jaitley had filed a second defamation suit of Rs 10 crore against Mr Kejriwal after an exchange of heated words between the counsel representing AAP leaders and those of union minister over the usage of abusive words against the latter.