New Delhi:
A national spokesperson for the Congress, Priyanka Chaturvedi, received an open threat last week on Twitter of 'rape and murder like Nirbhaya'.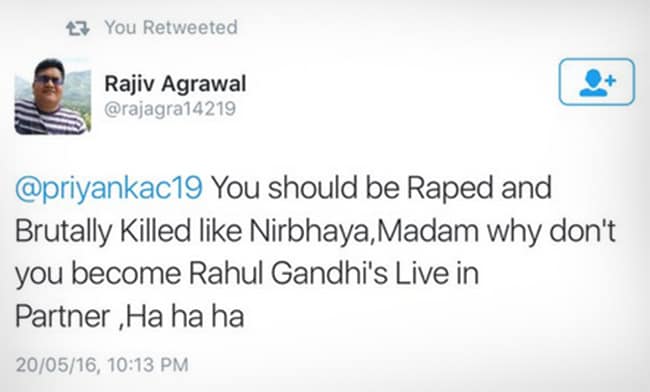 The abusive threat was a reminder of the chilling 2012 gang-rape and murder of a medical student in Delhi which had sparked a nationwide debate on women safety. It evoked bitter reactions on Twitter and the account was blocked. Ms Chaturvedi also filed a police case against the user.
Mumbai Police PRO, Sangramsingh Nishandar said, "Action will be taken according to law."
Speaking to NDTV, Ms Chaturvedi said, "It's happened in the past as well. Last time too the person was arrested but he was freed soon since it's not a non-bailable offence."
Ms Chaturvedi also appealed for stricter laws against threats and
abuses on social media in her blog on NDTV
.
In an interview to NDTV, Union finance minister Arun Jaitley had said trolls were a reality one had to learn to live with. "I don't think a censorship of this sort is possible," he said.
Political activist, Shilpi Tewari who has also faced similar abuse in the past said, "Personally I don't deal with trolls that indulge in random abusing. Don't see them worth my time," adding, "If your choices weigh towards taking the legal way and punishing as per law, I endorse it. Though till now, very few incidences have been taken up seriously and most cases are used politically which I find detrimental to the cause of online safety."
Activist Kavita Krishnan feels there are enough laws to deal with the issue and that the focus should instead be on starting a social and political conversation. "If I get 1,000 abusive comments a day, am I supposed to file 1,000 police complaints and keep following up for the rest of the day... and life. We need a louder conversation and it needs to start at the top," she said.