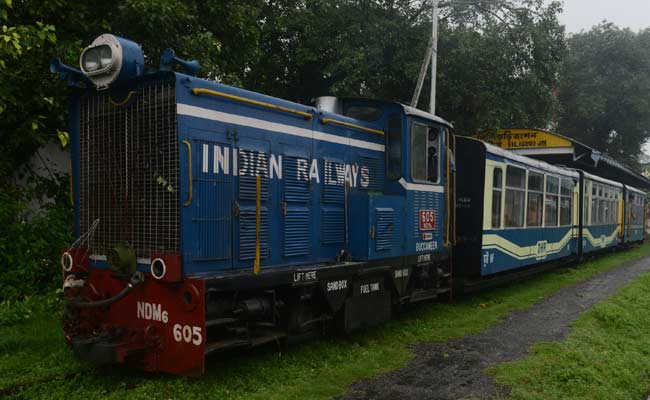 Guwahati:
The Darjeeling Himalayan Railways (DHR) for the first time has started evening toy train services for enabling tourists to experience the joy ride during the second half of the day, the officials said.
The toy train service had been exposing tourists to the magical beauty of the Himalayas for more than a century.
Now the visitors will be able to enjoy the natural beauty of the mountainous landscape while taking the evening ride.
The new service was introduced last week, North East Frontier Railway spokesman Pranav Jyoti Sharma said.
"The evening service will provide an opportunity to tourists at Siliguri and its adjoining areas to experience the ride, which earned the UNESCO World Heritage tag in 1999, during second half of the day," Mr Sharma said.
The train leaves Siliguri at 3 pm to reach Rongtong at 4.20 pm and it stops at Sukna for 10 minutes so the tourists could visit the museum, he said.
The return journey begins from Rongtong at 4.45 pm after refreshment and engine reversal, he added.
The train has one dining car with a seating capacity of 12 people and a first-class coach for 17 people.
The up and down fare for the journey in the first-class coach is Rs 1,000 and one has to pay Rs 1,200 for travelling in the dining car.
Tourists can order snacks, tea and other ready-to-serve items on the train.
Manual booking for round trips can be made at the originating station and tickets for one-way journey is not issued, Mr Sharma said.
Vistadome coaches and AC coaches have also been introduced in DHR by NF Railway.
A Vistadome coach, with a seating capacity of 40 people, has a transparent roof to enable the passengers to get a panoramic view of the mountains during their journey, he said.
The first-class AC coach with wider windows has been added to DHR recently, he said, adding, it is equipped with multiple television screens, GPS-based info system, and a wide side door for the disabled.
Mr Sharma also said that a directive issued by the Indian Railways, earlier this year, said that local communities within the operational area of these railways must be encouraged to participate in promoting tourism by providing them opportunities to showcase their art, culture and cuisine.